Scene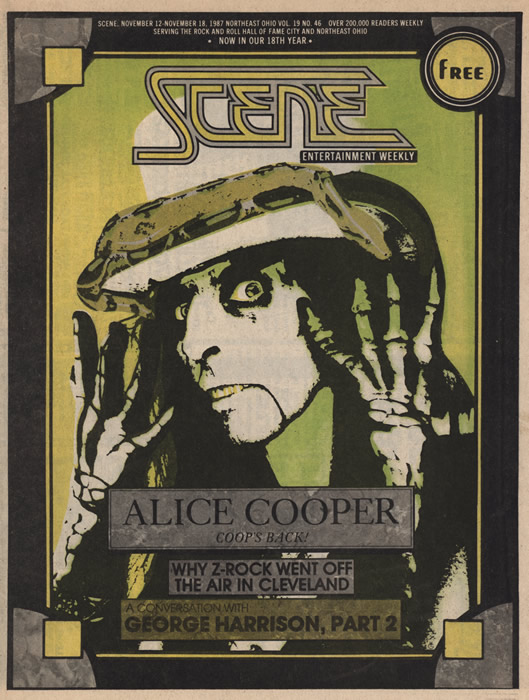 Scene
(November 12, 1987)
Originally Published: November 12, 1987
Alice Cooper: Coop's back!!!
Author: Marc Holan
It's the afternoon of Alice Cooper's appearance on WMMS' "Classic Rock Saturday Night" show, and a subdued looking Alice is sprawled out on his bed at the Sheraton Hopkins watching the Detroit Tigers play the Minnesota Twins in the third game of the American League Playoffs. A staunch Tiger fan, Alice keeps one eye on the game and the other eye on the interviewer, as the game progresses.
RAISE YOUR FIST AND YELL has just been released, and Alice appears in the latest John Carpenter film, PRINCE OF DARKNESS. A self-confessed horror flick freak. Alice is as excited about his performance in PRINCE OF DARKNESS as he is about RAISE YOUR FIST AND YELL, which he calls "My favorite album we've ever done."
The Tigers jump out to an early lead, and Alice is already pumped up. "I told the people at 'MMs that the whole complexion of the show tonight depends on whether the Tigers win or not, so if the Tigers win, I'm going to be in really good shape."
Always a top-drawing live act, Alice Cooper has had a tough time selling records in recent years. Last year's CONSTRICTOR album and tour sold well, but commmerical radio's resistence to Alice Cooper material has put him in the category of a hard touring but low selling recording act. Thus, it made sense that Alice would consent to do a guest disc jockey spot on Cleveland's most powerful radio station.
"Cleveland, Detroit," Alice explains. "There are certain Midwest cities where I would do that. I wouldn't do it in Miami or a lot of other cities, but I think the Midwest is where I really do well.
"This is a hard rock city," he continues. "This is a heavy metal city. I would balk at doing it in any otehr place other than the Midwest.
"I see Detroit and Cleveland as being the same area. It's like the blue collar/working class thing which is really the heavy metal audience. That's the kind of audience I like to play for. I hate sophisticated audiences. L.A. and New York have seen everything. They're kinda going, 'Impress me.' That's really not fun. You get to these areas, and is there to have fun. That's really important."
As usual, ALice will be pulling out all the stops for his live appearance at Public Hall this Saturday (Nov. 14) night. He has resurrected the gallows and the 13-foot black widow spider from the NIGHTMARE tour in addition to "lots of hydraulics." The previous night's dress rehearsal was "like Christmas morning" for him because he got to see all of the special effects at work for the very first time.
As a veteran rocker, Alice feels the current crop of hard bands on the road make it more competitive for everyone. Both Kiss and Aerosmith are on tour, and Alice knows the members of both bands, having collaborated with Aerosmith's Steven Tyler on a couple of unreleased tunes.
"It has a lot to do with the fact that I'm a very competitive person," Alice explains, "and one of the reasons why I'm back doing this is that I love competition. I love to see what the other bands are doing.
"I think," he continues, "we're in a whole different league when it comes to the kind of production we do, but what we have to do is get some things together. If we had as much record sales as we had ticket sales, we'd be in really great shape.
"A lot of people take us at face value, that we're a great show band, and they forget to listen to the albums. The new album, RAISE YOUR FIST AND YELL, is my favorite album we've ever done. It's like the hardest rock album we've ever done. We used Michael Wagener, who's produced just about every heavy metal band in the world. I think it's the most intereting album we've every done, and I'm real proud of it."
The Tigers go up 5-0, and Alice cracks open another can of Diet Coke. No sugar for this rock star.
"Oh,yeah," he yells. "A double! This could be a triple! The guy can't pick it up!"
The Tigers go on to win their first and only game of the playoffs, losing to the eventual World Champs four games to one. But at least for that afternoon and later on at the WMMS studios, Alice Cooper is a happy Tigers fan. And this from a man who professes a love of slasher flicks of the low budget kind.
"I watch three horror movies a day," Alice says. "I go to certain video stores, and they say, 'Are you back again?' I just tell them, 'It's research.'"
Published in Scene Entertainment Weekly in Cleveland, Ohio on 12th November 1987.