Metal Hammer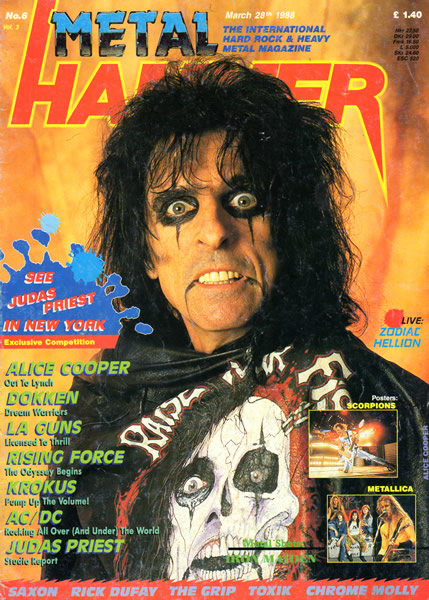 Metal Hammer
(March 28, 1988)
Originally Published: March 28, 1988
'I WANNA BE ELECTED!' - On Tour With Alice Cooper
Author: Edgar Klusener
He wants to be elected, or does he? Following a radio interview in the states, it suddenly became front page news that Alice Cooper was going to stand for the post of Governor of Arizona! Of course, the whole thing was a complete misunderstanding, but it caused quite a stir, drawing more media men than usual to his recent US shows. With the old Gore-Hound now poised to begin a full UK tour (new stageshow, old habits), the big question is: will Alice put himself forward as a candidate for the 'Bring Back Hanging (For Everyone)' party, and if so it should certainly be interesting to check out his swingometer!
SCHIZOPHRENIA IS a strange disease. Suddenly, there are two or more personalities that either communicate or are strictly separate, fighting for leadership in the one body which belongs to them all.
Schizophrenia can open new worlds, be visionary and then degenerate into paranoia. Schizophrenia is a disease which never leaves the affected person. Schizophrenia can be simulate chemically with hallucinogenics, but then you fall in love with it and lose your mind. Schizophrenia can be cruel, it can shut someone away in the most horrible of worlds - a hell on earth that makes Biblical hell seem like paradise.
Each person has streaks of schizophrenia inside them. It can be ignored, fought or oppressed - you can shut the alter ego away and forget about it. You can also turn yourself into an equal partner, into reflection of a different, absurd and obscure world; a mask that's shocking and revolting. Like Vincent Damon Furnier.
But who is Vincent Damon Furnier?
Vincent Damon Furnier first saw the light of day in the 'Motortown' of Detroit on 2nd February 1948. The first 17 years of his life took the more or less normal course of a typical American youth without mentionable highs or lows, except for those to be expected during puberty combined with a healthy need to rebel.
The metamorphosis of Vincent Damon Furnier began much later in 1965 in the capitol of the desert state of Nevada - Phoenix. As a student at the art college there he met Mike Bruce (guitar/keyboards), Glen Buxton (guitar), Neal Smith (drums) and Dennis Dunaway (bass). The five of them decided to do something together that would enable them to break away from American reality - Rock 'n' Roll.
They formed a band and called themselves The Spiders (temporarily changing the name to Nazz at a later point) and tried to transfer the aesthetic concept of dada artist Marcel Duchamp into a show which was a mixture of rock and theatre. For the first time Vincent Furnier began to slip out of his skin and become a different person - not just tolerating this person but giving him strength and personality.
During this time Vincent Damon Furnier's stage persona developed a life of its own - he turned into a duel being, two spirits in the same body. Everything changed. The stage personality struck out on its own, was christened and became a creature that has been influencing rock music in the western world for the past 20 years. With two hearts beating as one, Alice Cooper stepped into the spotlight and shocked the public.
This strange, shockingly brutal, perverted, and dirty old android called Alice Cooper was a smack in the face of the American dream, a full-frontal attack on Anglo-Saxon prudery. Vincent Damon Furnier, who created and christened Alice Cooper, disappeared slowly from the surface, was buried and forgotten, only to resurface sometimes as Alice Cooper's seldom-seen alter ego. That was in 1966. A year later Frank Zappa discovered Alice Cooper (by which time he had moved to LA), signed the band to his Straight label and the rest is rock history...
ALICE COOPER is still causing havoc in the USA 21 years later in February 1988. The announcement that he'll be coming back to Europe, following up his headline appearance at the Reading Festival in 1987, was reason enough for a trip to sunny California, the aim being to take a close look at Alice Cooper in 1988.
Alice is made up of all the horrible kinky things that comprise the dark side of the American moon. He symbolises hidden desires, frustrations and shattered dreams. He is the reflection of an American that pretends it's something it isn't, confronting his audience with a reality that most would like to see hidden behind a wall of silence or buried deep beneath the ground. Alice is the merciless mirror of the shadowy depths of the American dream, and that's why the establishment still hates him 20 years on.
SAN DIEGO freeway, somewhere between San Diego and the motorway checkpoint specially built to catch illegal immigrants before they get too far into the US and simply disappear. Alice Cooper finished his show in San Diego less than an hour ago - a show containing much more than you'd normally expect; it was a play, a mixture of Stephen King's nightmares, Poe-like atmosphere and absurd slapstick scenes with an obvious lack of taste.
The tricks in the show had been planned down to the last detail and were always surprisingly, an explosion of ideas and amazing stunts. The concert must've been hard work for Alice as he was moving non-stop, not taking a moment's rest. But he's getting the break he deserves now on the back seat of the Ford Mustang that's being driven back to the hotel by his manager, Toby Mamis.
"The show is calculated right down to the last second," explains Alice. "There's hardly any room for improvisation. Only during the last two songs do we deliberately leave more space, giving us a little more freedom. If the performance is tightly organised and something technical goes wrong all of a sudden, you're in deep shit. We then have to rely on our ability to improvise and react quickly, either to get around the technical hiccough or else accept it as a new element in the show, which is something we've done as well."
Each song in the set has got its own set-up, its own storyline, and the preparation reflects this...
"Before we started the tour we rehearsed the show for two months intensively." adds Alice, "the last week in front of an audience. About 200 people were there every day and the way they reacted to what was happening onstage was very important on us. I don't know of any other band that does anything remotely similar. That's another reason why Alice is unique."
Long Beach Arena is situated in a costal town on the outskirts of LA; it houses a venue that is typical of American halls, equally suitable for rock concerts, basketball matches or musicals, containing enough seats to accomodate around 15,000 people. The first band, Faster Pussycat, go down well in front of their home crowd with a mixture of rock'n'roll and r'n'b (a la Aerosmith/Rolling Stones/Led Zeppelin, etc, played loud and dirty), a combination that strikes just the right Californian nerve at the moment.
Then Motorhead hit the stage to a keen reception, finally winning over the audience with 'Overkill' and looking like they might have a chance of cracking it in the States at long, long last. We shall see...
And then...classical music filters through the speakers - Alice Cooper's signature tune - and the atmosphere in the hall rises towards boiling point. Suddenly he's there, the high priest to a whole generation of American teenagers, a dark figure...Alice Cooper himself!
Each song that follows tells a particular story, amongst them gems such as 'Chop Chop Chop', 'Prince Of Darkness' and (back in the set) 'Black Widow'. The musicians stand in the background on platforms of different levels. Indeed, everything takes place on three levels, with the front of the stage, ground level, belonging to Alice and the different actors and occasionally Kane Roberts, descending from his platform to play a brilliant solo. This man looks like Arnold Schwarzeneggar you get the impression he'll accidently break more than just a string if he's not careful! - but as far as guitar playing goes he'll be up in the big league very soon.
The middle level is reserved for guitarist Jonny Dime and bassist Steve Steele (who changes his name as often as the others have hot dinners) on the left-hand side and keyboard player Paul Horowitz on the right. Drummer Ken Mary is right at the top, a fine drummer who has played with David T. Chastain but in the future will probably be concentrating on his own band, Filth Angel.
Horowitz, meanwhile, must be the man with the most birthplaces in rock; wherever they play, Alice always introduces him as being from that particular town, even when the town in question isn't much more than a village. The announcement in England will probably be: "...And from Milton Keynes / Telford / Peterborough, Paul Horowitz!"
"The media," says Alice after the show, "described what Alice does on stage as 'Shock Rock', 'Theatre Rock' or whatever, but even after 20 years they're still trying to categorise me, and even I can't do that! In the 60's Alice was the first band to be labelled as 'Heavy Metal', and to be honest all these discriptions are probably true to an extent. One thing should be made clear, however: although we use a lot of theatrical ideas in our performance, we're not just a theatre group. We're mainly a rock band, but we try to visualise our ideas a lot more than other bands do."
TO UNDERSTAND the show, to see more in it than gushing blood and scary effects, you have to understand Alice himself. Alice isn't just a normal everyday person with everyday problems - relationships, job prospects, getting a new car or paying off the mortgage. When Alice falls in love then it's with an animal of the night, a vampire or a zombie. He has affairs with Teenage Frankensteins and Black Widows, but nothing comes across as being absurd or tasteless, just Alice himself. Alice doesn't 'kill' out of naked lust, he kills and rapes because he's madly and romantically in love. He's the ugliest side of Mr. Average, taking things to the extreme as ever.
In the past Alice set out to shock with his over the top behaviour, but because of the sexual and mental liberation that has taken place over the past 20 years he could now appear out of place, ridiculous even. However, by incorporating a potent mixture of theatre and performance techniques the roots of which can be traced back a full hundred years, he's able to get away with it. He uses elements of strange theatre, expressions from the dada movement, all mixed up with subtle irony, attacking the nerves of the unsuspecting, leaving them helpless and confused.
S&M, rape, murder and hanging, blood orgies, simulated masturbat:ion (sounds like an episode of Blue Peter - Ed), Vincent Damon Furnier's other self uses every single cliche (it is Blue Peter - Ed), distorting them beyond recognition and becoming a dramatist comparable to the likes of Stephen King.
"I discavered the psychopathological element in this world and described it in the most bizarre way. But I don't think that makes me a madman. Maybe I've just managed to retain the freedom of seeing and watching things; I know there are lots of sides to everything and I try to discover what these are and reflect on them. Obscure things fascinate and attract me."
At this moment I'm not quite sure who I'm speaking to - Alice or Vlnce. Each of them seems to have taken on apsects of the other's personality, though they both express the feelings of the same person in the end, whatever name he goes under. This is what Vincent/Alice has got in common with the people he used to hang out with in the early days. His old friends used to be Salvador Dali, Fred Astaire, Groucho Marx and Pierre Cardin - all people with bizarre and unusual methods of seeing and expressing their lives (what about John Noakes?)
This Is America...
A subject that keeps cropping up in Alice Cooper songs and shows is his subtle relationship with America, with the dream of a nation that thinks it is God's gift to the earth and mankind. What does America really mean to Alice and Vincent?
"I like America because it's extreme, like Alice - the all-American child. America is in love with itself, in love with the thought that it's the 'missionary saviour of the world'. That's why America is always getting involved with other countries' affairs without asking first. America can't even imagine that some people and some countries would be far happier if they didn't have America's involvement to cope with.
"Everyone in America is manipulative, and is manipulated every day and every hour. Americans know that they are easy to manipulate but they don't care, and if it comes to the crunch they can always say 'No', and they do. That's what happened with Vietnam and 'Watergate'.
"America is completely egocentric, the country and its inhabitants. Each individual puts himself first. At the same time, there is an enormous amount of brutality and nastiness in this country, as well as innocence and humour - it's a mixture that works well and has strange results.
"On top of all this, America is the centre of the world as far as entertainment goes. Entertainment defines life in America more than anywhere else in the world; it determines the whole of American reality America is extreme, and that's why I love it. It's as extreme as Alice..."
There's no doubt that America is extreme - so extreme that bad actors can become Presidents and good rock musicians can become governers. Governers???
THAT'S RIGHT On the 24th of February, the day of the concert in San Diego, Alice gave an interview to a radio station during the course of which he was asked to make a statement on the political situation in his home State of Arizona. I'll explain the situation briefly: The governer of Arizona, a Mr. Meecham, has been receiving a lot bad publicity recently because of his strange attitude towards boosting his own income. As his closest advisor and colleague is being sought after on murder charges in some states, this doesn't make the situation any easier for the Governor, who at the moment has to answer to the US Senate, and the way things are looking will have to resign shortly.
The shrewd radio reporter had discovered a connection between Alice and Meecharn. By pure chance, Alice had bought his first car off the not-yet Governor but already secondhand car dealer Meecham, all of this taking place many years ago. However, because Alice lives in Phoenix, the capital of Arizona, the radio reporter added two and two together and got five, asking Alice for his opinion on Meecham and politics in general. Alice knew nothing about the connection, but added his views all the same:
"It never ceases to amaze me how these men are whitewashed as soon as they're in the public eye, but it wouldn't be the same with me. Everyone knows that I'm dirty old Alice from the start. If I became Governor, the people would know what I'm like right from the beginning, which would make a change."
And that was that... or was it? Not for the radio man, it seems. The broadcast later on was short and simple: 'Alice Cooper is standing for election as the Governor of Arizona!' Of course Alice hadn't said this but no-one seemed to care...
The next day it was on everybody's lips. During the flight from LA to the gambling paradise and American entertainment dream of Las Vegas, Alice and Toby Mamis spent their time looking through piles of daily papers, all of them, big and small, the mass circulation ones and the regional LA publications. The news was in them all: 'The new candidate for the Governor of Arizona'. Apart from being in the dailies, the news was also on the American ABC TV channel, while the UPI news ageny shouted it out to the rest of the world.
When Alice arrived in Las Vegas there was chaos. Radio and television companies were waiting to interview him, press people who hadn't seemed interested in his concert beforehand were buzzing around, and Alice was beginning to have major difficulties explaining that it was all a mistake to people who didn't want to listen.
As soon as Alice landed in Las Vegas it all started to happen. When he entered the airport terminal, normal run-of-the-mill American citizens started congratulating him, wishing him all the best and letting him know that despite being a perverted monster he was just the man for the job of Governor of Arizona! A little old lady was heard to comment: "If a bad actor can become an average President, then a good rock musician has to be a better Governor! "
I guess the concert in Las Vegas could have been seen as the first step in Alice Cooper's election campaign. I wanna be elected, indeed!
'Raise Your Fist And Yell'
'Freedom', the first encore of the show, could become a protrest song for the future Governor. Vincent Damon Furnier's strange worlds seem nothing compared to the double standards of modern Americans.
"I've never left behind that phase of my development during which I hated bigoted authority and fought against it too. Even today, I'm not only suspicious of the system, but full of hatred towards it. And with that I mean everyone and everything that represents the system in any way whatsoever, including the security guards at the concerts. Of course, I know that they are there to protect me, but on the other hand it's these guys who stand between me and my fans, they are a kind of police and they behave like police. 'Freedom' is a song against all organised power, although I wrote it mainly as a protest about the PMRC. Alice was right at the top of their hit list. Alice is supposed to print all his lyrics on his sleeve and have them approved. Not that I mind printing my lyrics on the sleeve, but I don't think I should have to. I wrote the song 'Freedom' instead of a letter of complaint to let the PMRC and everyone they stand for know what I think about them.
"This group (the PMRC) mustn't be taken too seriously. Really, they are just four old ladies in Washington who try and get as much publicity as possible for their husbands, who are all influential politicians. Since the mainman behind the PMRC, Albert Gore, has admitted himself that he used to smoke pot and listen to loud rock music when he was a kid (something which was discovered while he was working on the President's election campaign) the movement won't last long anyway."
Who knows, when we see Alice Cooper play in Britain, supported by Chrome Molly, maybe we'll be greeting the future Governer of Arizona...Vincent Damon Furnier.
---
Alice Cooper has just left the MCA label. The company have put out his last two albums, 'Constrictor' and 'Raise Your Fist And Yell', yet relations between the artiste and the record label have apparently been strained for some while.
A number of other companies were in evidence when Alice headlined Long Beach Arena, Los Angeles, recently and clearly he's anxious to get a new deal sorted out fast.
Freedom
Alice is always at his best when his hackles are rising and you can tell that he was a trifle miffed about something when he wrote and sang this number.
Taken from the superb 'Raise Your Fist And Yell' opus, it's not difficult to imagine his adam's apple bulging and eyes glaring maniacally at the party responsible for his fury; this time those disgusting people at the Parents Music Resource Centre (that's the P.M.R.C. To you chum). "you want to rule us with an iron hand/you change the lyrics and you become big brother/this ain't Russia/you ain't my dad or mother", spits Alice as Kane Roberts pumps out the riff with mucho gusto.
Most will already have this, but it serves as notice to those who aren't aware that Alice is back... With a bang.