Metal Edge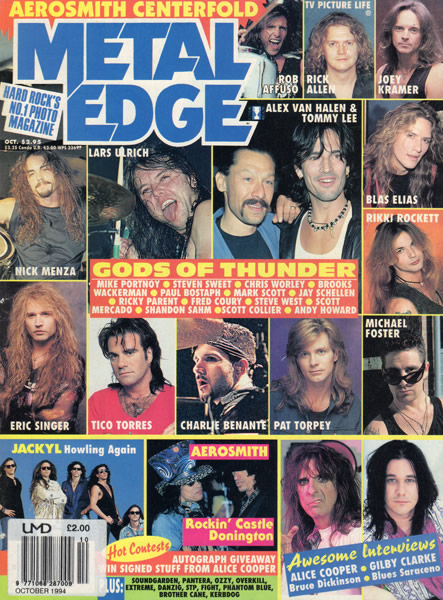 Metal Edge
(October 1994)
Originally Published: October 1994
Behind The Scenes At It's Me
Author: Gerri Miller
Just back from a whirlwind promotional tour of Europe, Alice Cooper went before director Wayne Isham's camera at Hollywood's Cine Video to film sequences for 'It's Me' the romantic ballad from The Last Temptation. On this, the first of a three day shoot, but the only day requiring his presence (work with lead actress , guitarist Stef Burns, and other sequences would follow), Alice performed as himself and the character of The Showman, both of whom appear to the dreaming girl in her sleep. "She's in the middle of a disturbing dream, and the romantic Alice is encouraging her and trying to wake her up. The Showman tries to take her deeper into it. It's the positive vs. the negative side. I'm layered between what goes on, and all the images," he adds. "It should be very surrealistic, but more haunting then scary."
Based on the artwork on the cover of the album and companion comic book, 'It's Me' is different in look and sound from the previous-shot 'Lost In America,' which suits Alice fine. "The album has so many different flavours and sounds, like they're from different periods of Alice," and each video will reflect that: "The first one's shadowy, the next one might be bright and colourful." Under consideration for the next single/clip are 'Stolen Prayer' and 'Sideshow,' but it, like the tour plans, remained up in the air at press time. Taking a cue from the Alcoholics Anonymous motto (something with which he's quite familiar), Alice says of rock'n'roll: "You've got to take it one day at a time."
Alice, who did 180 interviews (10 a day) in Europe on his toughest-ever promo tour, plus TV appearances including England's Big Breakfast, where he did an interview in bed (clothed) with Paula Yates, was looking forward to the continent for some rooftop performances. "I don't mind going, the only thing that kills you is the traveling. I can't sleep on an airplane," he explains. Unfortunately, the movie often sucks: "On my last flight they had the most boring movie I'd ever seen, Summer House. Once, on a series of six flights, five of them had Oklahoma Crude. I had it mesmerized." He was similarly less thrilled by The Flintstones, but liked Backbeat, and wanted to see The Crow. "He wears my eye makeup," noted Alice, who'd like to see a movie based on The Last Temptation come to the screen. He's currently visable "for about six seconds" in Maverick. As for other Alice appearences, two more comics in the Marvel series on tap, as is a rarity-intensive career boxed set, due out at Halloween.
"I've known him for years but we never worked together," said Alice of director Wayne Isham, who was always busy (doing clips for Bon Jovi, Motley Crue and others) when Alice called. This time, he gave Wayne plenty of advance notice.
"The video is based on the cover," said Alice, referring to both the album and comic book versions of The Last Temptation.
For now, video is Alice's only performance vehicle here. While he'd scheduled some European gigs, no Stateside dates were set at press time.