Goldmine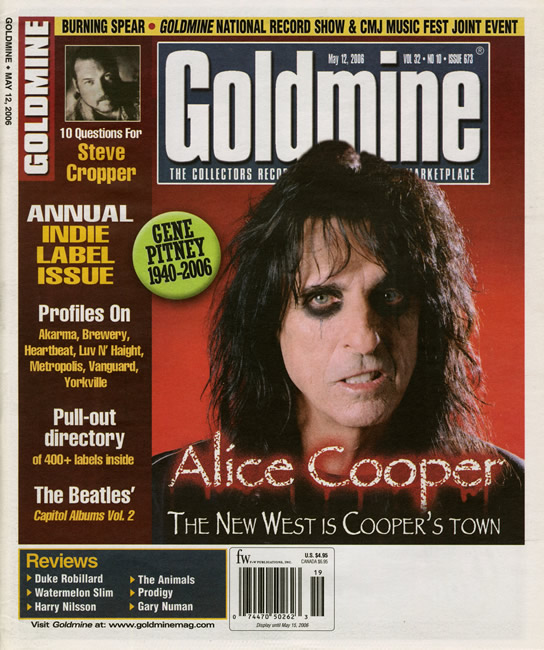 Originally Published: May 12, 2006
Alice Cooper: The New (Wild) West
Author: Martin Popoff
Alice Cooper - aka Vincent Damon Furnier and the son of a preacher man - has spent 35 years as a constant, relentless force of shock rock-ness. Ironic perhaps (the preacher bit), but Cooper has rarely played his card as a force for evil. It's a strange career path, one periodically boozy, always incendiary and frenzied, sometimes comical, with lots of golf and hot rods as well.
Let's not forget the music. Still very much prolific and making very good albums, Cooper's latest is the very cool Dirty Diamonds, on New West Records, yes, the roots label that also releases records by Delbert McClinton, Drive By Truckers, Dwight Yoakam, Buddy Miller, John Hiatt, Jon Dee Graham and the Austin City Limits series. (The label was profiled overall in Goldmine's indie label issue last year, May 13, 2005.) Cooper spoke to Goldmine, touching upon a wide range of upon a wide range of topics, including the state of the business, a business that has, through his signing to New West, turned him into one of the biggest indie artists in the world. As an adjunct to that concept, we've also got a few words from the head of his new label.
Goldmine: What are your plans for world domination in 2006?
Well, we're actually leaving for Germany; we've got shows with Deep Purple coming up. We just finished a 100-city tour, starting last May, finishing up in November. That was the Dirty Diamonds tour, and this is just a continuation of that. Then we start up again in May, in Canada, and just keep going. At this point, I think, in your career, your shows are basically greatest-hits shows, you know, and then you can add a few of your new songs. I think that's basically what people want to hear, and I think it's that way with Aerosmith or AC/DC or anybody in that classic world. People want to hear 90 percent hits, so that's what you give them. And in my case, it's 90 percent hits and then also there's the classic Alice bits. They want to see the guillotine; they want to see the straitjacket; they want to see the things that made Alice famous. And then of course, you always want to add new things to keep it interesting for everybody. So that's pretty much been the business for me for the last 30 years, 35 years. But we all know what our show is going to be. It's the same thing with Ozzy [Osbourne]. But it's interesting that our audiences are younger and younger. Basically if you go to a mall right now, no matter where you are, if you see three kids walking down the middle of the mall with black T-shirts on, look at what they say. It says Pink Floyd, Led Zeppelin, AC/DC. The more demented ones say Alice Cooper. They listen to classic rock because they hear new bands, and they go, "Well, these bands are OK, but they just don't compare to those bands from the 70s."
Have you thought at all about the next album, the next concept?
Yes, but I doubt it will be a concept album, until a great story comes up. You know, I based The Last Temptation on [Ray Bradbury's] Something Wicked This Way Comes, and Brutal Planet and Dragontown were based on the whole apocalyptic kind of look at things and the finality of hell. Then the last two albums are just really fun rock albums. The Eyes Of Alice Cooper and Dirty Diamonds were purely going back to 1970s Alice-type of rock, live in the studio so it had a live feel to it, and really, that's kind of what I'm writing right now. Now I was kind of toying with the idea of doing a late-60s/early 70s kind of psychedelia-type album; I think that would be fun and 'even having the light show being a liquid light show and really trying to recapture that era, only in a modern sense but just putting a type of psychedelic touch on it, like early Pink Floyd.
You tested those waters on Dirty Diamonds a little.
Yeah, a little bit, only this one would be maybe more explicit; there would be more tracks that are like "Levity Ball," that kind of thing.
Do you think your next record will be with New West Records?
Yeah, you see, record companies don't... they don't affect me. I don't do any business. I'm at that point now where I realized that I'm making records for my fans. I don't expect much. The worst thing about the music business right now is that it's not based on what's good; it's based on what's next. I mean, when you get people like [Paul] McCartney and The [Rolling] Stones and The Who coming out with a new album, it won't get played. And Robert Plant puts out a great album that won't get played. [David] Bowie, Elton [John]... it won't get played. I can make my best album, my very greatest album, and it will not get played. That's sad that quality doesn't mean anything anymore. People are much more interested in the next new band that comes out. Now, I'm not jealous of these bands; I think it's great. I think The Killers are great. I think Jet is a great band; I love the fact that they're that good. They push us; they make me play better. But there are also bands that are getting played on the radio right now that are... the songs that are getting played, I would've thrown them out. I mean, I hear songs that are played every day on the radio where I would've thought, "That song is a throwaway for us."
What ever influenced you from the rock realm to become a shock-rocker? Where did you get the makeup from?
Well, to me, it was always, I looked around and said, "Look at all the Peter Pans. Where's Captain Hook?" You know? I mean, look at all the rock heroes; where is the definitive villain? There was no Phantom Of The Opera, and I said, "I was born to be that." I am not going to be the pretty-boy lead singer. You know, I'm not going to be Paul McCartney, this guy or that guy. I looked at myself and said, "Alice needs to be the prime villain of rock, the Mortality of rock." You know? Why not develop this character? And I think that two things that developed the character's look more than anything else was that we had a real fascination with What Ever Happened To Baby Jane? the movie. You look at Bette Davis in that movie, and she's like an old, old woman trying to look like a little girl. I mean, she had the white caked makeup all cracking and the black smeared eyes and the red lips, and I went, "You know, that is so frightening." [laughs] So that look was involved, and then we saw Barbarella and I saw The Black Queen, Anita Pallenberg, and I said, "That's what Alice should look like." You know, a combination of those two. And really, that's how we started shaping the look of Alice, and pretty soon, I realized that nobody had worn eye makeup. No one had become sort of the dark court jester of rock 'n' roll. And I said, "Man, that's just the perfect image for me." Nobody had done theatrics. The Who were the closest thing to theatrics, because of the fact of their smashing the amps up. That was the most chaotic theatrical thing that had happened. And I kept thinking, "Why can't this show be more visual? Why can't this show be more surrealistic? You know, if Alice looks like this, why wouldn't he have a snake? Why wouldn't he have a sword? Why wouldn't he have this and that?" And pretty soon we said, "Since nobody is doing this, and since there's nobody to compare us to, let's just do whatever we want. Let's let the lyrics be the script for the show, so, if I said, "Welcome to my nightmare," well, don't just say it, give the audience the nightmare." You know, visually show it to them. And then of course, at that point, we ran up against the whole world of, "Oh, they're not really good musicians; they hide behind theatrics." And we fought that battle for years and years and years until people like John Lennon and Paul McCartney and Bob Dylan started to say, "You know what? Alice Cooper makes great records." And then we had a couple of #ls, and very rarely would you find a band that was as theatrical and upsetting to the public as us, like, you know, the Sex Pistols were, with hit records. That was the one thing we had that other bands didn't have, was the fact that we had, you know, 14 Top 40 records, [laughs]
When you signed to MCA, was part of getting that deal that you would become this heavier, tougher, new heavy-metal Alice?
No, it was literally coming from me. I did not want to come out with anything soft, anything with a soft underbelly to it. I wanted Alice to come out there and punch the lights out. I saw all these bands. I saw Kiss. I knew who Kiss was; we helped invent Kiss. We told them where to buy their makeup. They were no shock to me: And I said, "I need to blow these guys off the map." And to me, attitude-wise and show-wise, we did. Kiss were a different thing from us. Kiss were comic book, where Alice was still the master of theater. And I was the master of surprise. I was the guy who would always... this was much darker than anybody in Kiss. This character still had this mystery about him. And really, that's kind of what I nurtured but still, all based on the music. To me, the music always came first.
What was the very first record you bought with your own money?
The very first record I bought with my own money was, "All Summer Long" by The Beach Boys. People are still pretty shocked when they ask me my favorite record of all time, and I say "I Get Around" by The Beach Boys. I still think that's one of the great records of all time. You know, of course Meet The Beatles. England's Newest Hit Makers, The Rolling Stones.
Do you have much of a record collection?>/p>
You know, I do, and they're somewhere, [laughs] I have no idea where they are. But there are certain records that I've worn out three or four times. I've worn out Eli And The Thirteenth Confession by Laura Nyro. I've worn out East-West by Paul Butterfield. I've worn out Rave Up by The Yardbirds, Shine On Brightly by Procol Harum, Da Capo by Love. You know, there are certain albums I bought like 30 times and wore them out. Those are the albums that will always probably stay precious to me.
Collection Alice Cooper
Author: Michael B. Smith
Log onto eBay, do a search for Alice Cooper, and most any day you will get from many hundreds to thousands of results. You may ask, "Why the huge amount of Alice Cooper swag?" The answer is simple. Cooper is a living legend, a cultural icon and a true American treasure. He's a man who broke all the rules from the very beginning of his career and continues to reinvent his character some 37 years later.
Personally, I became a die-hard fan of Alice Cooper in 1972, when I was in the 10th grade in high school. A friend brought an issue of Circus magazine to school and pulled it out in shop class. There was a great article on the band and the sickest, most bizarre color poster in the center. There he was, this unusual, rock 'n' roll wild child, seemingly naked, except for the huge boa constrictor wrapped around his body. The next day, I bought Killer and I was blown away. Thus began my love of this son of a Texas preacher. Oddly enough, I still own that Circus magazine and the original Killer LP, complete with the year's calendar — a poster of Alice hanging from the noose, a poster that hung for a couple of years in my bedroom, scaring the hell out of my mom.
The hobby of collecting Alice Cooper records, posters, books, magazines and the other swag is perhaps the most popular in rock 'n' roll, except maybe for Kiss, Elvis Presley, or The Beatles.
One item that absolutely blows the mind with its asking price is a mid-70s paperback book called Billion Dollar Baby, written by Bob Gruen about his exploits as a member of The Billion Dollar Babies Tour of 1973. An excellent and hard-to-find book, copies are always showing up at record shows and online, often fetching in the hundreds of dollars for the paperback.
The second most popular Cooper book is the early '70s autobiography, Me, Alice. Recently, a hardcover first edition went for $560. Another sought-after Cooper item is the 1975 Rolling Stone Magazine Alice Cooper Scrapbook, a beautiful and highly collectible item, especially with the original four-page poster intact. The book is filled with excellent articles on Cooper, with beautiful photos by Annie Lebovitz. Copies can usually be had for $30 or so.
As for LPs, Cooper provides a few of the most collectible records in '70s rock, including the original Love It To Death cover, in which Cooper displays a strategically placed thumb coming from behind a black cape. Following the first pressing, the objectionable thumb was airbrushed out. The original pressing has been seen in Goldmine and online with prices ranging from $30-$200. Cooper's School's Out LP is another sought-after item in its original school-desk cover with the LP wrapped in a pair of paper "panties." As the years go by, copies containing the unique inner sleeve have gone up in value, often selling for as much as $100.
Several comic books have been printed with Alice Cooper as the subject, the most popular being the one-shot Marvel issue from the mid-70s based on Cooper's From The Inside concept album. Also of interest is Rock-N-Roll comics #18 featuring Cooper and a miniseries based on Alice's "Last Temptation." Most of these comics are pretty inexpensive and easy to come by.
Photos and autographs are always collectible, with press kits — especially early ones — and press photos ranging from a full-on press kit with two photos of the pre—Alice Cooper band The Nazz for $150, to a Welcome To My Nightmare press kit for $20-$30.
Obviously, this is the tip of the mascara-lined iceberg — remember the Alice Cooper brand mascara? There are dozens of 45s, picture sleeves and imports; bootleg LPs such as Alice Cooper At The Hollywood Bowl; McFarlane Toys' highly detailed Alice Cooper figure; tour program books such as the 1975 Welcome To My Nightmare program that recently sold online for $125; sheet music books and much more.
There are hundreds, maybe thousands of Alice Cooper items out there, and as with all collecting, the asking prices are subjective. It's all about what the collector is willing to pay for that special item. The best advice is to compare prices online, in Goldmine and at record shows. There are some pretty nifty items available at fanfare.com as well, including the From The Inside lunch box. Say you don't have one? And you call yourself an Alice Cooper fan?
New Wests Cameron Strant
The latest guy with Alice's autograph
Author: Martin Popoff
Somewhat oddly, Alice's latest record label is New West Records, an imprint known more for highly acclaimed roots-rock and (sort of) country types. Cameron Strang tells us how he reeled in the Lord Of Loud.
Goldmine: How did you end up signing Alice Cooper?
A friend and business partner of mine, Steve Lindsey, was producing Alice's album. We have a studio here in our building so Alice was around a lot recording. Everyone liked him; he charmed all the girls that work here. Some of us have been fans since way back. Steve introduced me to Shep Gordon [Alice's manager], and it seemed like a mutual decision for New West to put out the record.
Are there any unique aspects to dealing with Alice Cooper that differ from your more congruous roster?
One issue is that Alice is an international star. The demands on his time are greater than some of our artists because he tours all over the world.
Some of the specific publications, stations etc. are different, but we can deal with that. Alice also has a big, loyal fan base, which makes marketing the records fun. There are lots of people who want to know what Alice is up to.
Do you want to sign more hard rock acts? Classic-rock acts?
We are pretty open-minded if the act and timing is right and there are some fans of those acts at the label.
Were you a fan of Alice's from way back?
Yes, I remember my older brothers listening to School's Out and Billion Dollar Babies in the mid-705. School's Out had to make an impression on every kid who heard it. It made you cool by association. Alice was larger than life to me then. I certainly didn't think I would ever meet him. Alice to me is one of the great characters in rock; there have been many imitators, and he is also a nice guy to work with.
Dirty Diamonds Review
Author: Martin Popoff
ALICE COOPER: Dirty Diamonds
New West (NW6078)
Alice Cooper continues to be prolific while constantly recasting himself. The Eyes Of Alice Cooper was his Guns N' Roses/Slash's Snakepit rock 'n' roll record. He tried to slant it garage rock, but it was more nasty hair metal — and pretty damn good at that. Now signed to indie New West, mostly known for critic's darlings country-type acts, Cooper makes his most eccentric, authentically classic-era Alice Cooper album, something he's been trying to suggest many of the recent albums have been, with few fans and critics buying it. He's let his hair down, and it's a joy to behold.
No longer concerned with counting up the heavy metal riffs and making sure quota has been met, he is writing in that universal fashion that made Schools Out and Muscle Of Love heavy of impression but not often all that heavy metal. So "Perfect" and "Sunset Babies (All Got Rabies)" rock glam-style; "The Saga Of Jesse James" is a transvestite story with a Johnny Cash lope; "Pretty Ballerina" is a dark ballad straight from the Love It To Death/Killers era, and, well, "Woman Of Mass Distraction" could have fit on The Eyes Of Alice Cooper.
Other tracks are pretty giddy and sing-songy of an almost punk nature, with the title track being a sinister rocker with fresh arrangements and tones demonstrating Cooper is still wide-eyed and learning. All told, Dirty Diamonds is the work of an unbridled, unselfconscious Cooper not worried about trying to compete with other hard-rock acts or the new garage rockers or anything cuter and lighter. He calls these songs dirty diamonds because they're little gems left unstudied and uncontrived, and that's a pretty good way to look at these numerous modest but hit-worthy (or more accurately, almost all of them are modestly hit-worthy), rock nuggets.