22nd Century Rock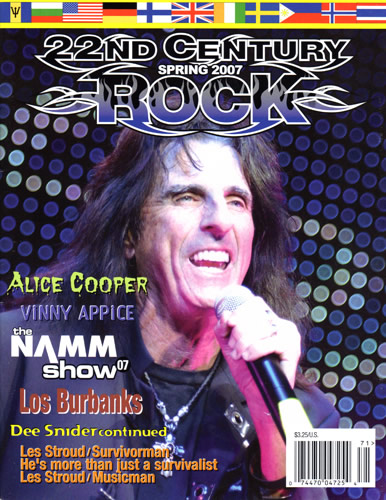 Originally Published: 2007
Alice Cooper's Christmas Pudding
A Night of Comedy & Music
Author: Robert Tuozzo
Alice Coopers Xmas Pudding XI
It's all for a worthy cause.
Alice Cooper turned Christian over sixteen years ago and has had a dream of building a sanctuary for teens to go. In order to fulfill his dream he's called some of his closest friends to come help out. The Solid Rock Foundation is a non-profit organization formed by Alice and his wife Sheryl. Raising five million dollars to build this safe haven is no easy ask but bring in the likes of the acts that performed and you're sure to have a sell out. That is exactly what happened at The Dodge Theatre in Phoenix this night. Being one of the only 5,000 in attendance got to see history being made, the reunion of all surviving members of the original Alice Cooper line-up. Michael Bruce, Neil Smith, Dennis Dunnaway, and of course Alice Cooper.
The Story
As fathers of two teenagers and long-time residents of Arizona, Alice Cooper and Chuck Savale understand firsthand how desperately communities must address the needs of teenagers. The two friends envisioned a Christian non-profit organization solely dedicated to helping teenagers & children. In November 1995, through prayer and planning, Solid Rock Foundation began with the help of several other men and women in the community.
Solid Rock Foundation Is:
Christian nonprofit, 501 (c) (3) Arizona Corporation. The Board of Directors is made up of Christian men and women dedicated to SRF's purpose. Started by Alice Cooper and friend Chuck Savale along with a five member board of directors, incorporated November of 1995.
Our Mission
The Solid Rock Foundation's primary goal is to honor Christ by helping to meet the spiritual, economical, physical, and social needs of teenagers and children within our community.
Our Goal
To honor Christ by providing a facility geared toward teenagers that will help them to negotiate through the turbulent adolescent years. The relationally trained Christian staff, of men and women, and the different venues will create an atmosphere which will make it a place where they will want to hang out. "The Rock" the name of the building will be designed to be a flexible needs structure centered around music. Programs will focus around a multi-use concert hall, coffee house (kitchen/snack bar for concert & other events), indoor basketball/floor hockey court, rock climbing walls, sound room and recording studio, computer/reading/study rooms, game room.
Our goal is to make an everlasting difference in the lives of the teenagers and children we are dedicated to helping.
The Rock
The Rock-Teen Center
General & Specific Objectives:
Generally we will reach out to the entire Valley of the Sun by our concerts and larger events publicized to our age group. Our partnership with Grand Canyon University and having our building on the GCU property and frontage on Camelback Road and 33rd Ave., along with an easy access from I-17 will all aid in attracting our age group. Shifting to the local community, we will reach out to these teens by our after school programs which include educational, recreational, and entertainment programs.
Specifically "THE ROCK" will draw by large designed monthly concerts and along with working with the local Churches, design weekly events that will help encourage them in their effort through out the Valley. On the local neighborhood side we will work with GCU to provide after school computer, reading, music, and other educationally needed programs along with the sports and recreational aspects.
"THE ROCK" Preliminary Building Specs:
2 story (at least) rectangular shaped building 150' x 120' = 20,000 square feet
First Floor
Main Concert Hall / Coffee House - 120' x 65' = 7,800 square feet Basketball / Floor Hockey Court & Rock Walls - 120' x 60' = 7,200 square feet Game / Study / Computer / Storage / Rest Rooms - 120' x 25' = 3,000 square feet
Second Floor
Offices / Conference Room / Sound Room / Recording Studio - 120' x 25' = 3,000 square feet
Events
The MTX Alice Cooper Celebrity Golf AM
The MTX Alice Cooper Celebrity AM Golf Tournament, now in its 9th year, features over 50 of your favorite celebrities from music, television, movies, and sports. Joining Alice and his celebrity friends are 200 amateurs for 2 days and 2 nights of golf and entertainment, all in an effort to raise money for children and teens in need. For more information on how to attend or sponsor go to: www.alicegolf.com
Alice Cooper's Christmas Pudding
Christmas Pudding is Solid Rock's second major fundraiser of he year. It has been designed to be a wonderful blend of comedy and music focused on the celebration of the birth of Jesus Christ. Driving the mixture of talent in genres including bands, soloists, dancers, and bells. In addition to the artists performing their popular Christmas songs. For more on how to attend or sponsor this festive event go to: www.alicepudding.com
With carolers, hot cider and not to forget Santa Clause bringing in the holiday cheer, the wait on line to enter the VIP meet and greet didn't seem so tedious. At 5:30 the line begins to move as we patiently know we'll soon be sharing a story, getting an autograph and maybe a photo or two with some of our favorite rock stars.
The music and comedy acts had yet to begin but mingling with the stars was in full force. Stephen Stills of Crosby, Stills, Nash & Young, Don Felder of The Eagles, F5 with David Ellefson, Jack Blades former member of Damn Yankees and current long time member of Night Ranger. There was Tommy Shaw from Styx and former member of Damn Yankees, Les Stroud of TV fame Survivorman and his band Sunday Morning.
Fans enjoyed hearing their favorite songs such as Hotel California (Felder & Stills) version and so many more from the array of artists but the closer Alice Cooper surely left us wanting more. The band reunion included hits like Billion Dollar Babies, Under My Wheels, Eighteen, Schools Out and many more.
The evening seemed to go by so fast but then again all good things must end so plans Alice Coopers' seventh annual Christmas Pudding can kick into gear. Overall according to www.alicepudding.com $155,000.00 was raised this year. HO HO HO... WAY TO GO!
(Originally published in the Spring 2007 issue of 22nd Century Rock)