Vindicator, The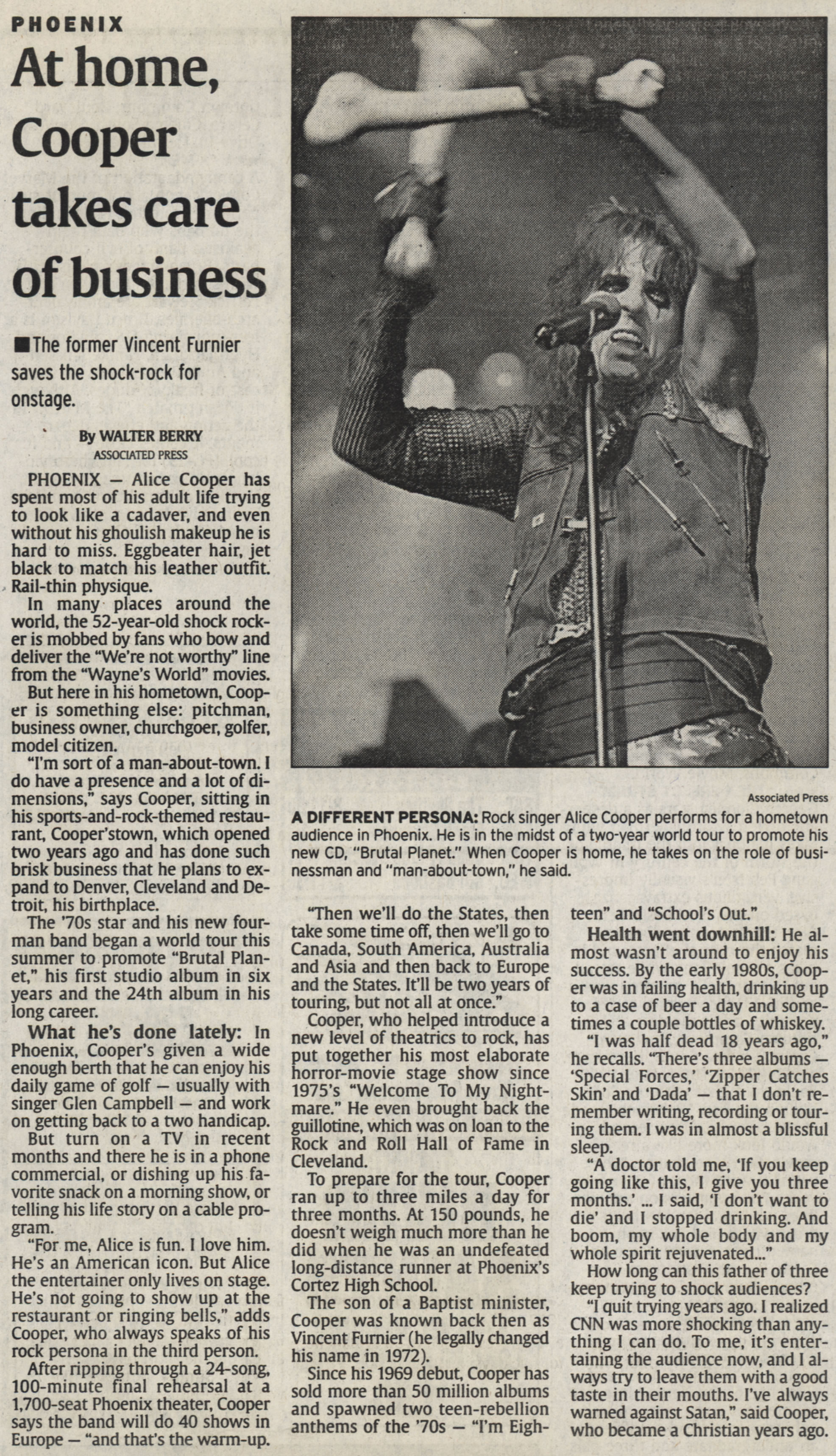 Vindicator, The
(May 2000)
Originally Published: May 2000
At home, Cooper takes care of business
The former Vincent Furnier saves the shock-rock for onstage
Author: Walter Berry
PHOENIX - Alice Cooper has spent most of his adult life trying to look like a cadaver, and even without his ghoulish makeup he is hard to miss. Eggbeater hair, jet black to match his leather outfit. Rail-thin physique.
In many places around the world, the 52-year-old shock rocker is mobbed by fans who bow and deliver the "We're not worthy" line from the "Wayne's World" movies.
But here in his hometown, Cooper is something else: pitchman, business owner, churchgoer, golfer, model citizen.
"I'm sort of a man-about-town. I do have a presence and a lot of dimensions," says Cooper, sitting in his sports-and-rock-themed restaurant, Cooperstown, which opened two years ago and has done such brisk business that he plans to expand to Denver, Cleveland and Detroit, his birthplace.
The '70s star and his new four-man band began a world tour this summer to promote "Brutal Planet," his first studio album in six years and the 24th album in his long career.
What's he done lately: In Phoenix, Cooper's given a wide enough berth that he can enjoy his daily game of golf - usually with singer Glen Campbell - and work on getting back to a two handicap.
But turn on the TV in recent months and there his is in a phone commercial, or dishing up his favorite snack on a morning show, or telling his life story on a cable program.
"For me, Alice is fun. I love him. He's an American icon. But Alice the entertainer only lives on stage. He's not going to show up at the restaurant or ringing bells," adds Cooper, who always speaks of his rock persona in the third person.
After ripping through a 24-song, 100-minute final rehearsal at a 1,700-seat Phoenix theater, Cooper says the band will do 40 shows in Europe - "and that's the warm-up.
"Then we'll do the States, then take comes time off, then we'll go to Canada, South America, Australia and Asia and then back to Europe and the States. It'll be two years of touring, but not all at once."
Cooper, who helped introduce a new level of theatrics to rock, has put together his most elaborate horror-movie stage show since 1975's "Welcome To My Nightmare." He even brought back the guillotine, which was on loan to the Rock and Roll Hall of Fame in Cleveland.
To prepare for the tour, Cooper ran up to three miles a day for three months. At 150 pounds, he doesn't weigh much more than he did when he was an undefeated long-distance runner at Phoenix's Cortez High School.
The son of a Baptist minister, Cooper was known back then as Vincent Furnier (he legally changed his name in 1972).
Since his 1969 debut, Cooper has sold more than 50 million albums and spawned two teen-rebellion anthems of the '70s - "I'm Eighteen" and "School's Out."
Health went downhill: He almost wasn't around to enjoy his success. By the early 1980s, Cooper was in failing health, drinking up to a case of beer a day and sometimes a couple bottles of whiskey.
"I was half dead 18 years ago" he recalls "There's three albums - 'Special Forces,' 'Zipper Catches Skin' and 'Dada' - that I don't remember writing, recording or touring them. I was in almost a blissful sleep.
"A doctor told me, 'If you keep going like this, I give you three months.'... I said, 'I don't want to die' and I stopped drinking. And boom, my whole body and my whole spirit rejuvenated..."
How long can this father of three keep trying to shock audiences?
"I quit trying years ago. I realized CNN was more shocking than anything I can do. To me, it's entertaining the audience now, and I always try to leave them with a good taste in their months. I've always warned against Satan," says Cooper, who became a Christian years ago.