Rock Scene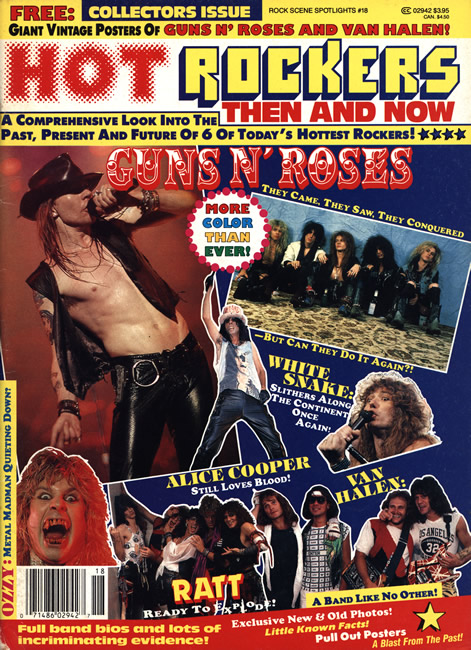 Rock Scene
(November 1990)
Originally Published: November 1990
Alice Cooper
Lovin' It To Death
Alice Cooper. The stage shows. The anthems. The name itself. There ain't a high schooler out there that hasn't been heard to exclaim "SCHOOL'S OUT FOREVER!" 'round the time graduation day rolls around. Call him master of shock rock, black humourist supreme or simply one of the era's great showmen, his mark has been undeniable.
Born Vincent Furnier, a preacher's son in Detroit, Michigan, he soon moved to Phoenix, Arizona dure to a youthful bout with asthma. Alice recalls his teen years as "a relatively mild, regular upbringing full of the usual taboos - sex, whatnot. I went to church, the whole bit. Music was an escape for me, a real outlet. I had the choice of being the box boy at the local supermarket, working at a car wash or joining a band. I discovered after the Beatles came along that girls loved the boys in the band so that was it."At a young age, while living in Detroit, Alice discovered his first true love - rock 'n' roll. What better a locale, especially one known and anthemized as the "birthplace of American rock." "I'll agree with that," Alice concurs, "Still, I'm biased, I grew up there. Some people say it's Memphis because of Elvis, Philadephia because of American Bandstand or Motown but to me, it's Detroit. I remember being like five years old and seeing Elvis and Chuck Berry. I love that town, there's really something magical about it."
While in Phoenix in the mid-60's, Furnier assembled a band with Glen Buxton on guitar, Michael Bruce on guitar and keyboards, Dennis Dunaway on bass and Neal Smith on drums. On a low budget and lower talents, they were a visual spectacle and aural mess. In a town of cowboys and good old boys, they were a target, a bunch of "long haired faggot boys ready for a' beatin'." Alice recalls his High School band days. "Pheonix was a death-trap, mind you. This was during the late sixties and the cowboys were there to literally kill anybody with long hair. Seriously, there were guys beat to death outside bars! We'd come out of clubs and the aerials on our cars would be all broken. One night in Tucson, the band played and after the show, the guy that owned the bar smashed a couple of bar-stools, handed us the pieces and informed us that we'd have to fight out way out of there. We took the bar-stools started swinging and beat these guys off until we got away. It was like some old-time movie. We got hit a few times but we were so drunk we couldn't feel it.
"Hey, we were the biggest band in Phoenix if you call that an accomplishment! We were drawing a thousand people a night, just total overflow! We got too big for Arizona, so it got to be time to move on."
Next stop, Los Angeles California. After moving there in 1968 they earned a reputation as the worst band in the city which may have had something to do with Frank Zappa's decision to sign them to his own label Straigh Records. "There were 25,000 band in LA that were better than us. We would have gotten swallowed except for the fact that we were just so unique; the attitude, the sense of humor, the choice of material was something nobody had ever seen before! At that point in LA, it was the time of Iron Butterfly, the Doors, Love, a lot of really great bands, but visually, we were more of an assault. Musically, we weren't as good as any of those bands, but that eventually came to us."
Crediting the Yardbirds as a prime influence; "They were just the best rock band in the world - I liked them more than Led Zeppelin and if you listen to stuff like "School's Out" you can hear a lot of Yardbirds," the music started to come as the band went through a succession of short-lived monikers including the Earwigs, the Spiders and briefly Nazz, before taking their current nom de plum from a sevententh century witch that was apparently reincarnated as Furnier!
Pretties For You emerged in 1969 with Easy Action following suit a year later. The Alice Cooper band was incurring huge debts with their shock-fest live gigs that were not recovered by record sales. That forced Straight to drop them. The air wasn't right for the group in L.A. the land of LSD and buckskin, so it was time to head back East to Detroit. "We were a little too out there for L.A.," Alice recalls. "L.A. was love and peace and just groovin'. Alice Cooper was Clockwork Orange by comparison." Detroit was a breath of fresh air for the then-primal Cooper. There they found an affinity and mutual respect between them and some of the now-legendary locals including Iggy & the Stooges and the MC5. "I must have done like 200 shows with those guys," Cooper laughingly recalls. The show, all blood, snakes and fire caught the attention of Warner Brothers A&R man Bob Ezrin who honed the scattershow sound into a powerful hard rock for their major label debut. Love It To Death which allied Cooper's musical depravity into crunching, cohesive hard rock form. It was rapidly followed up by Killer which re-emphasized the band's newfound musical accessibility, yielding a hit single with the still-anthemic "Eighteen". His 1972 release, School's Out broke Cooper worldwide, perfectly capturing youthful disrespect for authority, a credo still at the core of Alice's black little heart. "In every city we go into, we've always been met with a certain amount of resistance," Alice contemplates, "and that means we're doing something right. I'm proud of that. The last thing I want is for rock 'n' roll to become safe. I don't want to see a safe rock 'n' roll environment. Sure, I don't want to see it become too violent and see kids dying of drugs and fights but it should have an edge - an edge of violence and sexuality and if you don't have that, you've got a real corporate thing going on.
"As much bad stuff you hear about bands like Guns N' Roses and Motley Crue, I think it's not all that bad. It still lends rock a real sinister edge."
"Elected," a track from the very same album also proved highly successful as a single. By '73, the financial rewards of Cooper's success meant an even grander stageshow but after Billion Dollar Babies, the joke began to wear a little thin. What, deaad babies onstage! Alice was pushing the limits. Following the release of Muscle Of Love in 1974, Alice broke the band up, buying time with a greatest hits album. "The band wanted to change into too many different directions," Cooper recalls. "One guy wanted to be more like Pink Floyd and another guy wanted to be more like George Harrison! One guy wanted to be this and another guy wanted to be that. I'm sitting there going 'wait a minute guys!' the idea of what go us here was that we were theatrical, we were Alice Cooper, we were the new thing and I was not going to give that up. They didn't want to wear costumes anymore. Welcome To My Nightmare was the first album after that in 1975 and I went ten times more theatrical with that!"
The legend was spreading, Alice/Vince becoming more and more of the bona-fide entertainment personality, his ballad "Only Women Bleed" (Recently covered by Lita Ford) rating as a high chart success, prompting further Alice ballads to be released. Further albums were released and sold substantially. This prompted a rift between Cooper and his fans. He became personally erratic, overcome by his alcohol addiction and in 1978 comitted himiself to a psychiatric hospital, an experience later put to record on 1978's From The Inside. "That was pretty much an autobiographical record," he concurs. "All of the people I wrote about on that record were people I met in the hospital. There was a Jacknife Johnny and there was a Millie and Billie.
"Now, I find that I'm more more focused. Because of the lack of alcohol, because the anaesthetic is gone, I have a problem with being too focused, too precise. I need to make the show live and breath. The beating of addiction was important to me. After that, there was nothing I couldn't do. I beat the biggest goliath that I ever came across and there was nothing after that I couldn't do. Now, I wake up everyday just completely positive and wanting to take on the world rather getting up, and making three-quarters a glass of whiksey and Coca-Cola. Then, I'd throw up blood and start the day. Good wake-up, huh?"
The next few years could be best viewed as a low point in Alice's career. Failing to capture any huge interest with Flush The Fashion, Zipper Catches Skin, Special Forces and Dada, Cooper found himself branching out, this time into the world of film. His first cinematic effort? A 1984 yuckoid horror flick laughably titled Monster Dog. OK, it wasn't a classic by any means, it was something COoper, a long-time horror fan always wanted to do. "Monster Dog didn't have much of a plot," laughed Alice. "It was basically an excuse to see how many people we could kill. There was so much blood flying around taht the cameramen had to wear raincoats. Then, I ended up having my shoulder ripped off by this giant, mechanical dog in the film. It was a kick!"
A "kick" that catapulted Cooper back into the touring and recording fray with his 1987 release Constrictor. The time was once again right for Alice to re-emerge with a harder rocking sound that harkened back to Billion Dollar Babies days. For the ensuing tour, Cooper collaborated with movie special effects gore-god supreme, Tom Savini. At that point he stated, "A throat being slit of a body exploding won't play for the guy in the cheap seats. So Tom and I are attempting to put something together which will work for everyone in a big arena."
Constrictor proved successful and Alice, with new muscle bound sideman Kane Roberts and bassist Kip Winger (since having proved himself a valuable commodity in his own right) continued the gore-splashed barrage with '88's Raise Your Fist And Yell. The album and ensuing tour - featuring Alice's own self decapitation, put the madman back in arenas and set the stage for his greatest triumph of the decade, 1989'2 Trash. The track "Poison" hit the top ten and re-established Cooper as a rock phenomenon. His most commercial album to date, it's ironically proved his biggest success. A brief theatre tour of the U.S. and Europe under his belt, Cooper was recently forced to cancel a late-Spring U.S. jaunt to return to Phoenix and begin work on a new album due by year's end. His collaborators? None other than famed co-writer Desmond Child and Bon Jovi axegod, Richie Sambora! Place your bets on another generation of the 'Coop!
"I'm not gonna say exactly waht direction it's headed in, but this is gonna be an album much closer to let's say Love It To Death. I think we need a couple things that are less pop-edged and more hard edged! Who knows, maybe another "Billion Dollar Babies!" We'll see. We'll see."
(Originally published in Rock Scene Spotlights #18: Hot Rockers - Then and Now, November 1990)