Patriot Ledger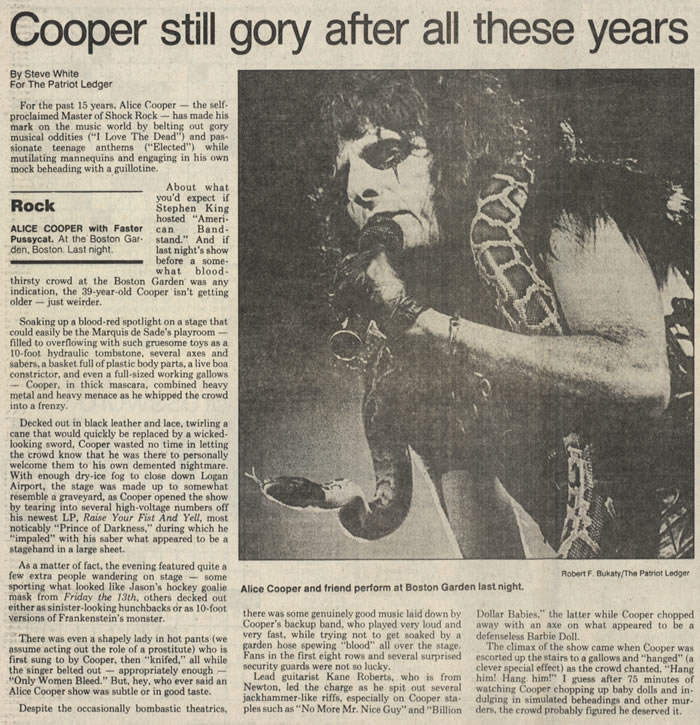 Patriot Ledger
(November 18, 1987)
Originally Published: November 18, 1987
Cooper Still Gory After All These Years
Author: Steve White
Alice cooper with Faster Pussycat
At the Boston Gardens, Boston. Last Night
For the past 15 years, Alice Cooper - the self-proclaimed Master of Shock Rock - has made his mark on the music world by belting out gory musical oddities ("I Love The Dead") and passionate teenage anthems ("Elected") while mutilating mannequins and engaging in his own mock beheading with a guillotine.
About what you'd expect if Stephen King hosted "American Bandstand." And if last night's show before a somewhat blood-thirsty crowd at the Boston Garden was any indication, the 39-year-old Cooper isn't getting older - just weirder.
Soaking up a blood-red spotlight on a stage that could easily be a Marquis de Sade's playroom - filled to overflowing with such gruesome toys as a 10-foot hydraulic tombstone, several axes and sabers, a basket full of plastic body parts, a live boa constrictor, and even a full-sized working gallows - Cooper, in thick mascara, combined heavy metal and heavy menace as he whipped the crowd into a frenzy.
Decked out in black leather and lace, twirling a cane that would quickly be replaced by a wicked-looking sword, Cooper wasted no time in letting the crowd know that he was there to personally welcome them to his own demented nightmare. With enough dry-ice fog to close down Logan Airport, the stage was made up to somewhat resemble a graveyard, as Cooper opened the show by tearing into several high-voltage numbers off the newest LP, Raise Your Fist and Yell, most noticeably "Prince of Darkness," during which he "impaled" with a saber what appeared to b a stagehand in a large sheet.
As a matter of fact, the evening featured quite a few extra people wandering on stage - some sporting what looked like Jason's hockey goalie mask from Friday the 13th, others decked out either as sinister-looking hunchbacks or as 10-foot version of Frankensteins monster.
There was even a shapely lady in hot pants (we assume acting out the role of a prostitute) who is first sung to by Cooper, then "knifed," all while the singer belted out - appropriately enough - "Only Women Bleed." But, hey, who ever said an Alice Cooper show was subtle of in good taste.
Despite the occasionally bombastic theatrics, there was some genuinely good music laid down by Cooper's backup band, who played very loud and very fast, while trying not to get soaked by a garden hose, spewing "blood" all over the stage. Fans in the first eight rows and several surprised security guards were not so lucky.
Lead guitarist Kane Roberts, who is from Newton, led the charge as he spits out several jackhammer-like riffs, especially on Cooper staples such as "No More Mr. Nice Guy" and "Billion Dollar Babies," the latter while Cooper chopped away with an axe on what appeared to be a defenseless Barbie Doll.
The climax of the show came when Cooper was escorted up the stairs to a gallows and "hanged" (a clever special effect) as the crowd chanted. "Hang him! Hang him!" I guess after 75 minutes of watching Coper, chopping up baby dolls and indulging in simulated beheadings and other murders, the crowd probably figured he deserved it.