Ottawa Sun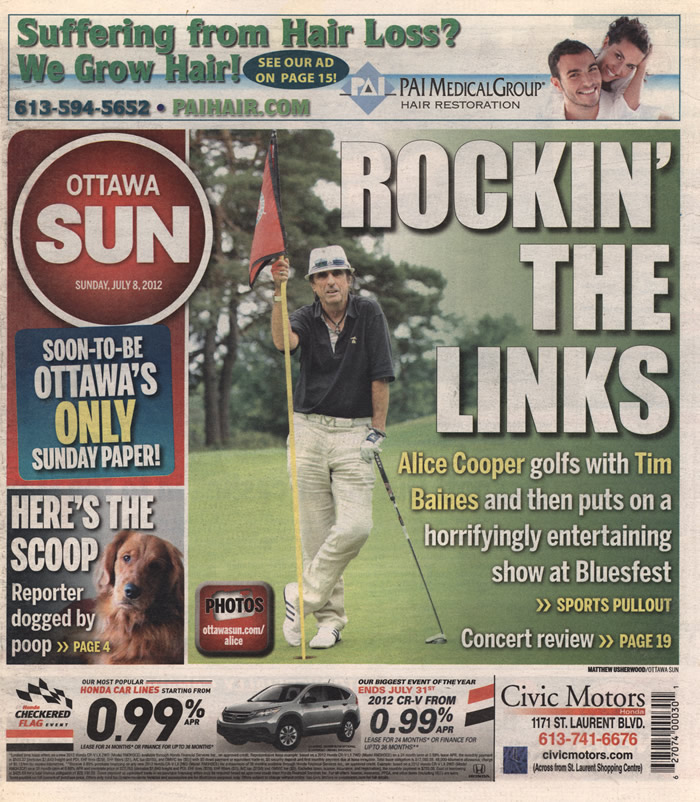 Ottawa Sun
(July 08, 2012)
Originally Published: July 08, 2012
Nice Putt, Alice
Sun scribe hooks up with undisputed king of shock rock for nine holes at Rivermead
Author: Tim Baines
Alice Cooper has played golf with the likes of Sergio Garcia, Arnold Palmer ("he's like your funny uncle"), Lee Trevino, Tom Watson, Justin Leonard and Dustin Johnson.
He's taken lessons from Johnny Miller.
On stage, as the world's greatest shock-rock entertainer, with his face covered in ghoulish paint, he's had his head chopped off by a guillotine, he's cavorted with mutilated baby dolls and snakes, he's been covered in fake blood and he's been jolted by an electric chair.
Saturday morning, 7:30ish I pull up to his downtown hotel to pick him up. Welcome to Your Nightmare, Alice. No nooses, just a morning on the golf course with me.
With the world's greatest shock-rock entertainer in town for Bluesfest, he accepted an invitation to play the beautiful Rivermead layout in Aylmer Saturday morning - also joined by Kevin Haime and his son Jake.
Understand that the 64-year-old guy who long ago stopped being Vincent Furnier, who brought us rock anthems like School's Out, No More Mr. Nice Guy and I'm Eighteen, is as avid golfer. Avid as in six days a week, for the past 30 years. Avid as in he's a 4-handicap. Avid as in he's got four holes-in-one, three double eagles and a low score of 67, at Camelback Golf Club in Scottsdale Arizona. Avid as in he's got a sweet, smooth swing that stripes the ball down the middle of the fairway pretty well all the time.
In finding golf, some 30 years ago, he swapped on addiction for another.
Stopped drinking
It was a good trade, considering his bottle-a-day Seagram's VO habit saw him wake up one morning spitting up blood. He hasn't had alcohol since and soon after going cold turkey, golf became his obsession.
"I love the game of golf. It's never a bad day for me on the golf course," says Cooper. "I've had bad shots, but I've never thrown a club. I play a different course every single day. My goal is to break 80 and rarely do I go over that. I hit the fairway all day. That was what Johnny Miller taught me. Hit straight shots, not long shots.
Not bad for a guy who started out wit ha set of Sam Snead Blue Ridge clubs his picked up for $90 off the shelf of a Sears store.
"The first time, I hit a seven-iron down the middle and thought, 'What's so hard about this?'
"I needed to find a positive addiction. So in the first year I played 36 holes a day. I was playing with pros every day. (Winnipeg's) Craig Yahiro would dump 200 balls 60 years out and tell me we weren't going in until I put them all on the green. I was a 9-handicap by the end of the year. After that, I was taking a shot off a year. I got down to even at one point."
In the midst of a 100-city tour with his band, with his long hair tied up under his white hat, cross around his neck, silver chain bracelet on his wrist, Cooper is a shotmaker. All precision, even on his day when he's using a borrowed set of Callaways, a company he represents. On the seventh hole at Rivermead, he takes "a rock star mulligan." When you've blistered 14 No. 1 hits and a stage show like no other, you've earned those mulligans.
On his stage theatre of the macabre, Cooper is the bad guy.
'I'm the villain'
"I've been doing this 45 years now. I get on stage and I'm Hannibal Lecter. I'm the villain. I'm rock's Captain Hook," says Cooper. "Lyrics are the script. If you say Welcome to my Nightmare, you have to give them that nightmare. Other bands were standing on stage, playing and looking down at their toes. We destroyed that concept. My character is angry, with attitude. He's vicious.
"I spent 15 years drinking, trying to keep up with Jim Morrison, Jimi Hendrix and Janis Joplin. They were all trying to live that image, to be that same person offstage they were onstage. Alice Cooper lives onstage, I live offstage.
"Thirty percent of what you hear about me is true. If somebody saw a snake at the show, by the next day at school it was 30 feet long and it had killed two people. I threw a chicken into the audience (1969 in Toronto). They ripped it apart. The next day in the paper the headline was like 'Alice Cooper Bites the Head off Chicken.'
"Frank Zappa asked if I killed the chicken onstage. I told him no and he said, 'Well, don't tell anybody that.'"
It was all about image. Groucho Marx liked him for the Vaudeville approach he brought to his shows; Salvador Dali liked him for being a surrealist.
"We wanted to piss off every parent in America," says Cooper. "We knew if we could get every parent to hate us, we'd be a huge hit."
Cooper is from an era where bands like The Ramones, Iggy and the Stooges and the MC5 were tearing it up with attitude.
"I like the Foo Fighters. Jack White is a total genius," says Cooper, who loves muscle cars, driving a prized 1967 Shelby Mustang these days.
"But bands like Arcade Fire and Kings of Leon... I go to sleep listening to that."
His own success took time, but when it came, it exploded.
"We played one night at the Whisky-A-Go-Go on a bill with Led Zeppelin. The next night, we played with Pink Floyd. It was 1967. Nobody had heard of any of us," says Cooper. "We were starving musicians. Frank Zappa signed us. Other companies didn't want us because we weren't Creedence Clearwater Revival."
Vincent Furnier has become Alice Cooper. That's what fans call him, what friends call him. What his wife calls him.
"If Elton John was here, would you call him Reggie?" asks Cooper with a grin.
Cooper met his wife Sheryl when she was a ballet dancer on the Welcome To My Nightmare tour. She was 18. He was 27.
"Thirty-six years later, we're still married and I've never cheated on her," says Cooper.
Okay, well, maybe he does have a mistress: Golf.
"My wife teaches ballet. She says she loves ballet, but once in a while she gets tired of it. I never get tired of golf."
'We're not worthy'
He endures, listening over to, 'Nice putt, Alice,' and 'We're Not Worthy', in homage to his appearance in Wayne's World.
It sure was a pretty picture at Rivermead. Alice Cooper, without the makeup, without the grinding guitars, doing what he loves so much... hitting a golf ball into the horizon, with all the tranquillity a quiet Saturday morning can offer.
For nine holes, he shoots 39... getting a piece of his own little nirvana.
Shock Value Lives On
At 64, Alice Cooper can still put on a horrifyingly entertaining show - even before sunset
Author: Denis Armstrong
As one of rock's oldest vampires, Alice Cooper isn't supposed to play shows before sunset. But for his gig at Bluesfest Saturday night, the ageless 64-year old shock-rocker braved the glare of the setting sun, with a horrifyingly entertaining, if all too brief show on the main stage.
Half rock concert, half Andrew Lloyd Webber musical, the Alice Cooper franchise puts on one of rock's slickest, most entertaining shows. As with every successful franchise, every show is virtually the same, ready to go and designed to give every song a macabre comic book theatricality that fans love.
Forty years ago, when I saw Cooper's School's Out tour, the Detroit band was easily one of rock's most defiantly shocking acts. Rumours swirled that he killed chickens on stage, sang love songs to a python and even decapitated himself. Call it the morbid fascination of a 14-year-old, but marrying that kind of spectacle with four outstanding rock albums made Alice Cooper one of rock's biggest draws.
What can I say? People like to be scared.
These days, Cooper is loving parody of those earlier days. His 7 p.m. show began with horror film actor Vincent Price introducing Cooper from the grave. My gosh, Price died in 1993.
Then, perched 20 feet high on a staircase, presumably returning from his coffin and wearing the same black mascara he's worn onstage since 1969, Cooper opened with The Black Widow and stuck with the franchise hits, including I'm Eighteen, No More Mr. Nice Guy - with his pet python slithering up his arm - Hey Stoopid, Billion Dollar Babies and Feed My Frankenstein, with Cooper playing the mad doctor to a 10-foot tall papier mache monster.
All in good fun.
Poison was a showcase for his young but able band with Ryan Roxie and a blond female zombie called Orianthi on guitars, Chuck Garric on bass, Jonathan Mover on drums and Tommy Henriksen.
Then Cooper dressed up like a Nazi maitre d' for Wicked Young Man before being beheaded during an abbreviated mashup of Ballad of Dwight Fry and I Love the Dead and School's Out.
Then the show was over in less than an hour.
However, Cooper packed more action into 50 minutes than most band do in a year.
My only complaint is that I miss the original band setting. Something about Cooper fundamentally changed as soon as he went solo. It used to be primarily about the music. Now, the show's the show, and Cooper's amazing catalogue of monster hits has, like Cooper himself, lost some of the intensity.