New Musical Express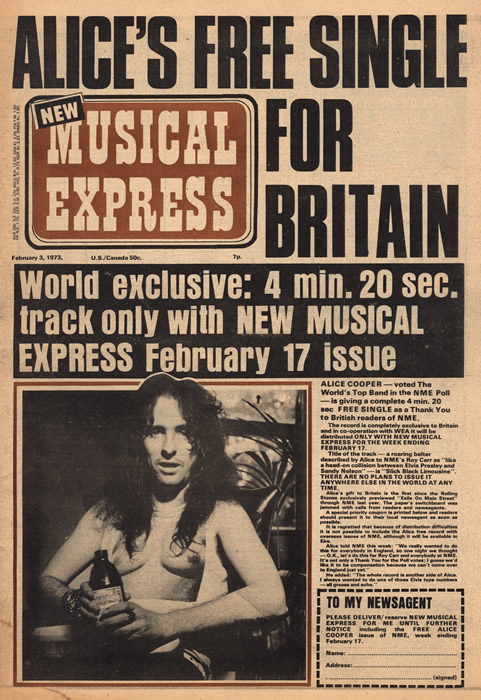 New Musical Express
(February 03, 1973)
Originally Published: February 03, 1973
Alice's Free Single For Britain
World Exclusive: 4 min. 20 sec. track only with New Musical Express February 17 issue
Alice Cooper - voted The World's Top Band in the NME Poll - is giving a complete 4 min. 20 sec FREE SINGLE as a Thank You to British reader of NME.
The record is completely exclusive to Britain and in co-operation with WEA it will be distributed ONL WITH NEW MUSICAL EXPRESS FOR THE WEEK ENDING FEBRUARY 17.
Title of the track - a roaring belter described by Alice to NME's Roy Carr as "like a head-on collision between Elvis Presley and Sandy Nelson" - is "Slick Black Limousine". THERE ARE NO PLANS TO ISSUE IT ANYWHERE ELSE IN THE WORL AT ANY TIME.
Alice's gift to Britain is the first since the Rolling Stones exclusively previewed "Exile On Main Street" through NME last year. The paper's switchboard was jammed with calls from readers and newsagents.
A special priority coupon is printed below and readers should present it to their local newsagent as soon as possible.
It is regretted that because of distribution difficulties it is not possible to include the Alice free record with overseas issues of NME, although it will be available in Eire.
Alice told NME this week: "We really wanted to do this for everybody in England, so one night we though - O.K., let's do this for Roy Carr and everybody at NME. It's not only a Thank You for the Poll votes; I guess we'd like it to be compensation because we can't come over to England just yet."
He added: "The whole record is another side of Alice. I always wanted to do one of those Elvis type numbers - all grease and echo."
Alice For Festival Here This Summer
Alice Cooper will not be playing a spring tour of Britain after all - but he will be coming in the summer to headline a major outdoor festival event. The spring tour, originally planned for March, then postponed to May - has had to be scrapped because of the mammoth American tour, starting in the middle of March, has been extended through until June when he plays New York Madison Square Garden. A spokesman told the NME: "It is very likely that Alice will tour Britain later in the year, though probably not until the autumn. But meanwhile, he will be coming here in the summer for one of the principal outdoor promotions."