Metal Edge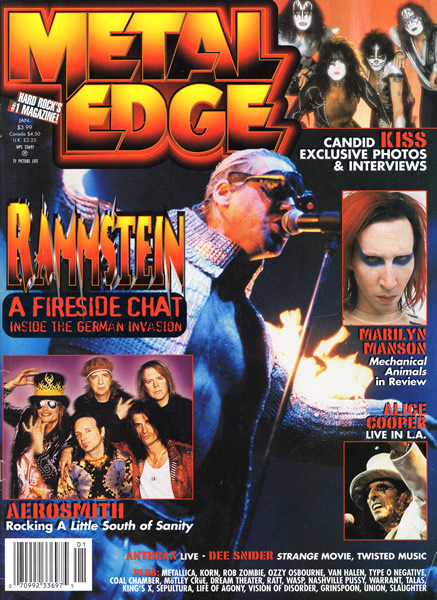 Metal Edge
(January 1999)
Originally Published: January 1999
Alice Cooper Rock L.A.
Author: Gerri Miller
No time like summer for a carnival, and Alice Cooper put a typically demented twist on the sideshow theme for his latest concert program, performing amidst clowns and brandishing an array of props as he entertained a packed House of Blues on Aug. 18, the first of three nights at the L.A. venue. From the opener "Hello, Hurray" to the set-ender "School's Out" and the encore numbers "Jailhouse Rock" and "Under My Wheels", Alice and his excellent band - guitarist Reb Beach and Pete Freezin' bassist Tod Jensen, drummer Eric Singer, and keyboardist Paul Taylor - thrilled fans with 20 favourites, "Billion Dollar Babies", "Only Women Bleed", "Poison" and "I'm Eighteen" included.
Alice and I had a chance to catch up after the show and on the phone the next day, after he's spent the day playing golf and shopping. "I hate to sit around," he said, looking forward to playing again that night. "You take a big show like this and put it in a small place, it's really intense. The audience can see everything. I like playing small venues. I can see every reaction." He had shows booked into September and October then planned to get to work on a new studio album, utilizing the various members that have been in the touring band this season, like Derek Sherinian and Ryan Roxie. "I have the only band that has a bench, like a baseball team. I have about three guys deep on each instrument." It's not a concept album, but "pretty much a rock 'n' roll album," Alice described. "I have tons of stuff written. It's a matter of putting it to tape."
He's equally excited - and relieved - that the long awaited boxed set The Life and Crimes of Alice Cooper will finally be released in March. "I never had such a hard time getting something out," said Alice, noting that "the girl who started working on the project has since been married and had two children" and glad that the compilation is back on track now that Warner Bros. set up distribution through Rhino records. "They're doing the packaging now. And they've added a fourth CD. I'm very happy about that."
Rhino will subsequently remaster and re-release all of the albums Alice put out via Warner Bros., and the Alice tribute album Humanary Stew will also be out in early '99. Alice is also collaborating with songwriter Alan Mencken on a project called The Deadly Seven, about the Seven Deadly Sins. "We don't know what it's going to be yet - a Broadway production or a movie or a cartoon. He's writing the music and I'm doing the lyrics. When it's done we'll sit down and [figure out] what it would be best as, an Alice Cooper tour, a play with someone else in it, a cartoon with a celebrity voices. We're gonna record it and see. We've had a couple offers for it already."
Meanwhile, Alice's sports/rock bar and restaurant has been slated to open in Phoenix in October. "The band might play at the opening, and whoever's in town and wants to play can play," said Alice, naming other local celebs like Rob Halford and members of Megadeth. "I'm doing really good right now," said the very busy Mr. Cooper, showing no signs of slowing down at 50. "I've got no complaints at all." Neither do we.
---
Metal Edge Asks:
"Where Is Your Favourite Place To Play?"
"Detroit, Michigan and London, England. Both are super high energy audiences." - Alice Cooper