Guitar World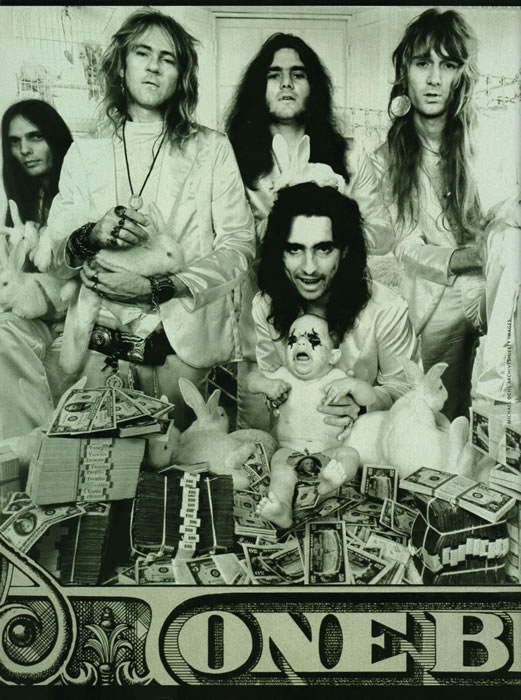 Originally Published: 2008
Babies on Fire
On the 25th Anniversary of Billion Dollar Babies, Alice Cooper and his former bandmates reveal the story behind the album that made them rock's hottest act and caused their premature flameout.
Author: Jaan Uhelszki
In the history of rock and roll, 1973 is an exceptionally impressive year. Its 12 months saw the release of such gems as Pink Floyd's Dark Side of the Moon, Led Zeppelin's Houses of the Holy, the Who's Quadrophenia, Stevie Wonder's Innervisions, Yes' Tales from Topograhic Oceans, Black Sabbath's Sabbath Bloody Sabbath, Grand Funk's We're An American Band, Mahavishnu Orchestra's Bird of Fire and Todd Rungren's A Wizard/A True Star, to name but a few of the year's most outstanding albums - not to mention debuts from Lynyrd Skynyrd, Aerosmith, Queen, Steely Dan and the New York Dolls.
So it is particularly noteworthy that among the most successful treasures of that banner year was Alice Cooper's Billion Dollar Babies. Released in March 1973, Billion Dollar Babies showed the five-piece shock-rock act at the top of its game, not only as songwriters and performers but also as conceptual rock artists. In addition to reaching the top of the album charts, Billion Dollar Babies spawned four hit singles - the title track, "Elected", "Hello Hooray" and "No More Mr. Nice Guy" - and set the group off on one of the biggest and most elaborately stages tours rock and roll had ever witnessed.
It was an unlikely triumph. Just years before, during the late Sixties, they had been called "the most hated band" in Los Angeles thanks to their freaky and fussy fusion of art-rock dissonance and fuzzed-out psychedelia. The band members would parade in public wearing prissy velvet suits made from old drapes and too-tight pants pieced together from ripped evening gowns. Early lineups of the group circa 1967 performed as the Spiders and, briefly, the Nazz (a name they shared with Rundgren's more successful East Coast band). They landed the occasional gig, serving as the opening act for their friends the Doors as well as for their heroes the Yardbirds, whom they infuriated by playing nothing but Yardbirds covers.
By 1968, the group had settled into a stable lineup consisting of singer Vincent Furnier, guitarists Michael Bruce and Glen Buxton, bassist Dennis Dunaway and drummer Neal Smith. That same year, the group adopted the moniker with which it would find fame and infamy. In an apocryphal story, the members claimed that Alice Cooper was a fetching 17th century witch that had been burned at the stake and with whom they made contact using a Ouija Board. At first it was the name of the band, but Furnier later claimed it his own, a move that would haunt the other band members when the lineup dissolved. But in those early days, they were still a band, a democratic creative cooperation called Alice Cooper.
The band's 1969 debut, Pretties For You, was a critical and commercial failure, and as the year came to a close, Alice Cooper were $100,000 in debt. Destitute, they landed in Detroit, the city of Furnier's birth. In a typically unlikely stroke of luck, they got a break when, during their performance at the Toronto Pop Festival, a fan threw a chicken onstage. Furnier tossed it back, expecting it to soar over the crowd. "I thought chickens could fly," he still contends. "Really." Instead it plummeted into the crowd, where it was torn apart. Alice Cooper became known as "the chicken-killing fag band." Suddenly, kids everywhere wanted to see them perform.
Their growing popularity led to a deal with Warner Bros. Records, which paired them with producer Bob Ezrin. The young Canadian, who had never produced anyone before, drilled the band members at their rented farm in the outskirts of the Motor City, forcing them to practice every day and work on their craft, their songwriting and even their trashy, violent, flamboyant stage show. During that time, Bruce began a manic course of wood shedding, improving his playing until it was top notch. He also began hooky pop gems that change the band's musical direction. Riff-driven songs like "Under My Wheels" and "Be My Lover" earned Alice Cooper radio play and fans. In January 1971 they unleashed Love It To Death, which catapulted them onto every radio playlist with "I'm Eighteen," a precursor to Nirvana's teen-angst anthem "Smells Like Teen Spirit."
Before the year was out, it was followed by Killer, an album that showed the group to be well versed in both heavy rock (the bludgeoning metasonics of "Under My Wheels") and high concept (the morbid track "Dead Babies"). By now, Furnier had become Alice Cooper, in the eyes of fans and outraged parents. Perhaps to satisfy both, the band's live show began to be presented as morality play in which Alice was punished for his evil deeds and put to death. The Killer tour featured a gallows from which he hung, blood spurting from his mouth as he dropped to his death, thus establishing a level of theatricality for future acts like Kiss and Marilyn Manson, among others.
School's Out, released in 1972, catapulted the band into rock's heady stratosphere, where they outsold even Led Zeppelin. The title track became a hit single and helped propel the album to No. 2 on the Billboard charts. But it was with 1973's Billion Dollar Babies that Alice Cooper outdid themselves. Already an international sensation, playing sold-out shows and earning $17 million dollars in 1972, they needed to do something even more sensational than what they had done before. And they did, crafting a concept album that dealt with their own wobbly place at the top of rock's slag head, and the decadence that they found there. "It was about us," Dunaway said. "We were the Billion Dollar Babies," echoed Bruce. Preproduction commenced in a mansion in Greenwich, Connecticut, before Ezrin moved the sessions to London. Some of rock's biggest names showed up to these sessions, including T-Rex's Marc Bolan, the Who's Keith Moon, and British folk singer Donovan, who sang on the album's title track.
The stage show for the tour was appropriately dazzling, as if lifted from a classic Hollywood film. During "Hello Hooray" Alice would materialize through a puff of smoke. Wearing white tails, a ripped leotard and leopard-skin boots, he would high-step onto a 25-foot-tall stage that weighed eight tons and was built on three levels, connected by a huge staircase that lit up when Alice walked on it. Behind Neal Smith's drum kit there was an Egyptian sarcophagus, which shot lasers during the show while Cooper molested dolls, caressed a nine-foot pet boa constrictor and, as usual, was executed at the show's climax.
The Billion Dollar Babies tour was the largest rock extravaganza in rock history. A British poll from the time named Alice Cooper the number-one group in the world. Ironically, as is so often the case, just as the band was hitting its peak, it was falling apart. Blame in on years of tirelessly climbing to the top, churning out three albums in two years, the jealousy of band members as all attention was given to Furnier or the blind eye that was turned to Glen Buxton's alcoholism. Whatever caused the fracture, the personal and professional relationship of these five friends - four of them high school chums - were shattered a year after the release of Billion Dollar Babies. They managed one more album - Muscle Of Love, released a mere eight months after Billion Dollar Babies - before breaking up in 1974.
Alice Cooper released his solo debut, Welcome To My Nightmare, in early 1975 and never looked back. But perhaps he should have, because never again would he reach the level of success that he had when he was with his original band. Buxton's death from pneumonia in 1997 closed the door on the possibility of a full-band reunion.
Yet, we've managed a reunion, of sorts. Here, for the first time, Alice, his former bandmates, Bob Ezrin, Shep Gordon and others tell the story behind the making of Billion Dollar Babies, the album that made Alice Cooper the biggest stars in the world during rock and roll's most celestial year.
The Concept
Shep Gordon: It's really hard to say why it all came together with Billion Dollar Babies. What I do know is that the Seventies were a time of real change, and the success of Alice Cooper was almost a perfect storm. We had a young producer named Bob Ezrin, who was coming into his own, and there was Alice, who was really coming into his own, and there was a social climate that was very open and willing to accept new and outrageous ideas.
Alice Cooper: The two albums before Billion Dollar Babies - Love It To Death and Killer - were critically acclaimed. There was a general feeling that each of our albums was a little better than the last one and that we were not just a flash in the pan. We kept raising expectations by coming up with good songs like "Eighteen", "School's Out" and "Under My Wheels".
After Billion Dollar Babies came out, even people like Bob Dylan and members of the Beatles started saying nice things about us, which was the final stamp of approval. Dylan loved "Generation Landslide", and John Lennon's favorite song for a while was "Elected". It didn't get better than that.
We were also becoming better players, and with each tour the stage act was getting tighter. There's a great tradition of show business in America, and people could relate to the theatrical aspect of what we were doing. We were the rock version of Hollywood, and we just tap-danced across the United States.
Michael Bruce: Billion Dollar Babies was about the fantasies in our heads. Most of it consisted of inside jokes, and the more inside the joke, the better we liked it.
Dennis Dunaway: The album was a cartoon version of the band; it was about a bunch of guys whose success allowed them to live in complete excess. But in reality we were working so hard, we didn't have much time for excess. In those days we were putting out two albums a year plus putting together a massive stage show, so we were always under the gun.
Neal Smith: Billion Dollar Babies is not a real concept. Thematically, it's about decadence, but it doesn't really tell a story. The concept was manifested in the product - the cover looked like a green snakeskin walled stuffed with money - and it leaked into the music.
Bob Ezrin: I always said that Alice Cooper held a fun-house mirror up to American society. And that's what it was: a bigger, fatter, more excessive, more selfish version of our culture.
The Recording
Smith: We started recording the album in this communal mansion we rented in Greenwich, Connecticut, in August of '72. I've been in the real estate business for over 20 years, and to this day I've never seen a ballroom in a mansion as large as the one in that house. We actually were able to set up our complete stage inside of it. You could park a Volkswagen in the fireplace.
Ezrin: We were doing preproduction there, but since we were making some money we decided to bring in a mobile unit to do some recording there as well. I thought we might capture something really unique, and some of the sounds that came out of that house are really special and would not have happened in a formal recording studio.
Smith: The house was beautiful and monstrous. We did record a lot of songs there, including "Elected" and "Sick Things". The ceilings must've been 40 feet high. We built a huge drum riser that was at least 10 feet tall and drum you hear on "Sick Things" are the product of having those drums with microphones all around the ballroom. We also recorded at the Record Plant in New York and Morgan Studios in London.
Dunaway: We recorded the bed track to "Elected" in the mansion, and I just remember when it got to that tail end where the bass does that cascading, descending line, I know it was a hit. I can't say the same thing, for example, about "I'm Eighteen" - I had no idea that was going to be a hit.
We were feeling out oats. We were playing out best, and we knew that people would be listening. We were under pressure, but bringing it into our own home made it easier than working in a traditional studio, where every tick of the clock means dollars spent.
Ezrin: One thing I do remember in that house was Neal's bedroom, which was a total shrine to Neal. It was blood red, filled with Nazi memorabilia, a snake and mirrors everywhere, so he could watch himself on the bed with his long, blond locks flowing over his blood red pillows. He was a total narcissist, but admittedly so. He had a great sense of humor about it.
The Musicians
Cooper: Out manager Shep Gordon had a natural knack of knowing what to do next. He saw what worked and knew how to capitalize on it. We were also smart enough to listen to our producer, Bob Ezrin, who was a master musician.
But we were not manufactured in any way. The band would write all the time and rehearse nine or 10 hours at a stretch. We worked really hard, because we knew we were competing with bands like Led Zeppelin. We actually had an inferiority complex. We were sure everybody was better than us, which made us work harder, and it pushed us to greater heights.
Michael Bruce was a really good rhythm guitar player, and he was the guy that held everything together musically. He was out John Lennon in that sense. Neal Smith was the ultimate showman. He would find out how many drums the Who's Keith Moon had in his drum kit, then go out a but one more and then call Keith and brag about it. He would stand on his kit and twirl his sticks, and I would just look at him while we were onstage and laugh and think nobody has that kind of ego! Our bassist Dennis Dunaway was the artist - he was the best musician in the band.
Dunaway: We had two guitarists that were very different from each other, which is often over-looked. Michael had this cutting, inventive, riff-orientated guitar style, and Glen Buxton was like an angry hornet. Yet they were able to complement each other. I can't think of any other guitar duo that worked together like they did.
Ezrin: Glen's lead guitar playing in the early days was remarkable and unique. Okay, his technique wasn't fantastic, but his musical sensibility was really special. "School's Out", for example, was entirely his riff. He walked in with that, and that started the whole ball rolling. But there were signs even before Billion Dollar Babies that Glen had a problem, and it eventually killed him. Glen drank himself to death.
Dunaway: Glen always rebelled against anybody who told him how to do anything. As things progressed, the band was pressured to do things in a short period of time, and we were expected to create hits. And because of that, the record company became authority, and that's when Glen kind of dropped out.
If you wanted Glen to play a great part, you would say, "Glen, would you like a blue light or a red light?" You know, it was mood: all mood. But as soon as you started telling Glen, "Okay, I need an A minor scale here, and I need that there," forget it. He had to do it his way or drive you crazy.
Bruce: Glen started doing more drugs and he couldn't handle it. I tried to help him, but his girlfriend was using too, so it didn't help.
Ezrin: Things would come up that were difficult to play, and Glen wasn't quite up for the task. I think he ran away from situations where he felt embarrassed, and he was becoming more and more embarrassed as time went on.
Your problem creates bad performances and you bad performance feeds your problem, and that's what was going on with Glen. But he'd have moments. He'd have moments of great lucidity and ability and then periods where he just wasn't useful. On Billion Dollar Babies there were lots of things he was not able to play and had to be played by others, like [session and touring guitarists] Mick Mashbir and Steve Hunter.
The Sixth Cooper
Dunaway: We were a theatrical band. It's not as easy to be theatrical in the studio, but with Bob Ezrin's help we managed to figure out how to do that. Being theatrical onstage is visual, but take away all the visuals and you have to still portray theatrical ideas through music. We had to learn to do that as well, which I think we did on Billion Dollar Babies.
Cooper: I think that we would all agree Bob was our George Martin. He was the one that could "hear". We would jam for 25 minutes, and he would say, "Okay, throw all of it away except for this part right here - that's the hook, that's the hit." The amazing thing was that we listened to him. Because, generally, we didn't listen to anyone.
Ezrin: I felt I understood what the Alice Cooper persona was. Sometimes Alice would say I saw it more than he did. I just held him to that role, and together we developed a really multi-dimensional, interesting character - sick sometimes, but sometimes really just plain smart.
But it wasn't just Alice. Each guy in the band would come in with amazing ideas, so part of my job was literally arranging the furniture that they had already created. On occasion, there were a few pieces missing, and that's when I would contribute.
Dunaway: There's a tendency for people to say that Bob Ezrin changed everything, but that's not exactly true. Michael's the one that changed, and a lot of the songs that were on Love It To Death were done pretty much the way that Michael wrote them. Not to take the shine off of Bob Ezrin's input, because it was invaluable. We couldn't have done it without him. But Michael's songwriting is what made the band, and it's what made those albums.
Ezrin: Michael Bruce is one of the great rhythm guitar players of all time and a great riff rock writer. I mean he came up with just amazing, simple but powerful guitar-driven songs. Alice was the lyricist, but Michael wrote a lot of the music and was a huge contributor to everything.
Dunaway: "No More Mr. Nice Guy" was a perfect example of Michael walking into the rehearsal room, plugging in and playing a song that was pretty close to the finished product. What made the difference in the band was that Michael started woodshedding after Easy Action, the album before Love It to Death. He simply went into a room by himself and practiced a lot. That's when he became a really good guitar player, and that's when his songwriting got a lot better.
Bruce: I wasn't trying to be the leader of the band, but I certainly stepped up to the plate at different times when there was nothing going on. I was always a team player, and I always tried to make things go forward. We were such a great band, and everybody contributed.
Dennis was such a talented guy and a real virtuoso on the bass. He would play scales and melodies that were totally original. Neal on the other hand was like thunder. Yeah, he was a thundering god. He had so much tenacity and balls that he would tell you he was going to play the impossible and actually pull it off.
The Songs
Dunaway: We had to write our albums on the road, so a lot of the album concept came together in a station wagon on the way to a restaurant and then continued from the restaurant to an airplane. Somebody would throw out an idea, and even if it was bad, everybody would sort of throw in another card to try to trump it. And we would take that idea to its most outrageous possible conclusion, and then we'd either throw it out in the end because it became too silly or we'd actually make it happen.
We knew that we wanted the title of the album to be Billion Dollar Babies, but we didn't have a song yet. So this songwriting friend of the band, Rockin' Reggie, knocked something out with Glen. It was originally a beautiful, Roy Orbison-type of ballad. We all sat down and ran through it about five times, until I said, "If this is going to be the title of the album we've got to set a stick of dynamite under it. It's got to be exciting."
I remember everybody looking at me, saying, "Yeah? So whadda you got?" And I had nothing. All I knew was that I wanted it to be exciting. The pressure was on, so I cranked my amp up and just started playing the opening riff, and the song radically changed. From there, of course, everybody came up with these great parts to go with it, and that's how that song turned from a ballad to a high-energy rocker. I wish I still had a recording of the original one, because you wouldn't recognize the style, even though you would recognize the lyrics.
Cooper: Yeah, you write the title first, then figure out how to twist that into Alice Cooper land.
Smith: I think "Sick Things" is one of the most powerful songs ever written. It's true we did things to get attention. "Dead Babies," was intentionally controversial, but it's still a great piece of music.
The only song on the album I felt a little lukewarm about was "Hello, Hooray." We didn't write it, but we did a good job beefing it up. I don't know if you know, but as the song is fading, you can hear a real cannon going off! This is a long time before AC/DC's "For Those About to Rock."
Ezrin: I first heard "Hello, Hooray" on a Judy Collins album. Her version and ours bear almost no relationship to each other, but I loved the idea of the lyrics. It declared, "This is going to be big. This will be our biggest show ever." It just seemed to be a very fitting introduction. It had all of the majesty and yet was completely ironic at the same time. And it kind of summed up the experience of this grand rock spectacle: the Billion Dollar Babies as they hit the stage with all their excess and all their self-centeredness and all their posing and posturing. I had to really fight for it, and after Alice changed some of the lyrics, it became a Cooper song.
Dunaway: One of my biggest disappointments was that "Generation Landslide" wasn't a single. It's my favorite song for many reasons. Even Bob Dylan cited the lyrics as being great. We had never seen Bob Dylan compliment anybody's lyric writing before that.
Life At The Top
Cooper: When we heard the album back, we looked at each other and said, "Boy, I hope this is a hit." But in our heads, we were already thinking, This is going to be a hit.
We went from oblivion to the number-one band in the world. And in April of 1973 there was no band bigger than us. You can't even describe how it feels when you look at the charts and you're number one, ahead of the Rolling Stones and Led Zeppelin and everybody.
Smith: How did I celebrate when we went to number one? We were at least past the halfway point of the Billion Dollar Babies tour when it happened, and we were down in Fort Lauderdale. I remember Alice and I and our road manager grabbed one of the limos, and we went down the strip. We sat down at a bar and I said, "What's the biggest glass you have in here?" The bartender shows me this big, like 32-ounce beer glass. I said, "Fill it up with vodka." And he goes, "Do you know how much that's going to cost?" I said, "Which part of 'fill it up with vodka' don't you understand?" By the time the glass was half empty, Alice and I were on the dance floor dancing together, and I was taking chairs and tables and flinging them everywhere.
Glen & The End
Cooper: Glen was kind of my best friend, and I just watched him disintegrate. I couldn't get him to concentrate. All of us talked to him about his drinking and drug use, but we just could not pull him out.
Glen would say, "Yeah, yeah, you're right, you're right," but he couldn't stop. He only felt comfortable when he was getting away with something. Everybody else knew that we had a career to protect, so we faked it as long as we could. We put other guitar players in there, and we did things like that, but we sure didn't want Glen not to be in it, because everybody loved Glen. He was our Keith Richards.
Mick Mashbir: The band had Shep send me a telegram, that said "URGENT. CALL ASAP." I called, and Shep said that the band wanted me to play on the new record.
Bruce: We didn't decide to get another guitarist. Mick was our friend from Arizona, and we needed some more guitars to cover all the parts on Billion Dollar Babies, so we just had him come out and start playing with us. And then the keyboard player Bob Dolan followed, and I liked it because it added a lot of diversity to the group. Bob was a real good piano player.
Mashbir: When I got to the band's mansion, I immediately went up to Glen's room. He said, "Mick, what are you doing here?" I said, "I've come back to play on the new album." Glen said, "Cool. Do you want to see my fish?" He had a Blue Oscar fish in his bathtub.
Glen didn't show up for my first rehearsal, so I just started writing my own parts. About half the songs were written at that time. I think the band had already finished "No More Mister Nice Guy", "Raped and Freezing", "Billion Dollar Babies" and "Hello, Hooray." It was pretty weird, because Alice never spoke to me during rehearsals or recording. I think he was too busy working on his lyrics. I really didn't receive much input from Bob Ezrin either, so I figured I must be doing something right.
Since I was there to play on the record, I took that at face value. I had no illusions of being a permanent member of the group. In fact, after we finished the album, I went back to London. They called me to come back for the tour two months later.
I wrote all my own parts on the Billion Dollar Babies album and played just those parts during the tour. Glen played his own parts, and we shared solos on "Billion Dollar Babies" and "Eighteen" with Michael Bruce. On songs like "Elected," I was the second rhythm guitar player. Michael and I had no problem making our parts mesh, and that left room for Glen to do his thing. I never played the encore of "Under My Wheels" and "School's Out." That was all Glen.
Bruce: Mick and Bob broadened our horizon, but in hindsight it probably contributed to Glen's downhill momentum, because now he didn't have to hold up the sound of the band. Now there's another guitar player and a keyboard, so he didn't have to do anything but stay up late and do whatever he did: mischief, sleep in and not take care of business. Was there a sense it wasn't working anymore? Yeah, being around Glen was real difficult. It made everything hard, and it wasn't working like it used to. And it just kind of went downhill from there.
Mashbir: I think that the band was no longer the band Glen had started. He became disillusioned with the direction they had taken and couldn't really find a place for his unique playing style.
Smith: I always say that we never came to a decision about Glen. Pink Floyd fired Syd Barrett when he became dysfunctional and hired David Gilmour, and that's what we should have done. Instead, we put a Band-Aid on the situation when we got Mick. Ultimately, I think the band destroyed itself because it couldn't bring itself to kick Glen out.
Gordon: The band fell apart after the following album [Muscle of Love], but I don't think Glen's inability to perform had anything to do with it. He wasn't significant in the breakup at all. It's a classic story: Alice was getting the attention and the band started resenting it. On paper one would say they should've thanked him for doing all the press. He would work eight, 10,12 hours a day, seven days a week, doing publicity, while they would just play a show. Alice would have to do hours of interviews every day that there was a show and then hours after the show. The guys would show up and play and then go party. The money got split equally, but they just couldn't deal with the fact that he was famous.
Smith: At the end of the Billion Dollar Babies tour, all the press was talking about fucking Alice, and there was nothing about the band. It was slowly going in that direction, and it was becoming more and more and more apparent. There was one time during the tour where I was in the limo and somebody told me to get out of the car because it was Alice Cooper's limo. They're lucky I didn't stab 'em.
The Breakup
Cooper: The Billion Dollar Babies and School's Out tours really exhausted us. We couldn't take a break because we were riding this gigantic tidal wave. We should've stopped for a while, but in those days, you didn't. You did two albums a year and you toured all the time. We went right into recording Muscle of Love, which was an okay album, but there was something missing.
Were we aware of the irony that we were falling apart just as we reached the top? No.
Honestly, everything was day to day. Nobody sat around and thought about tomorrow. We were all overdoing everything, but there was a certain brilliance in that.
Mashbir: During the Billion Dollar Babies tour, everyone was living out their rock and roll dreams. The real cracks showed up later in the year during the Muscle of Love Christmas tour.
Dunaway: After the Billion Dollar Babies tour, we immediately recorded Muscle of Love and did another tour. Then we took a year off because Michael had some great songs that he wanted to record that weren't appropriate for the Alice Cooper group, and that was understandable. It was a good time to take a break anyway, because we had been driven into the ground.
Smith: Nobody wanted to give Glen the ax.
I mean nobody could. He actually started the band and he taught Dennis how to play, and Alice and Glen and I were buddies through the whole duration of the band. That's why we took the year off. We couldn't decide what to do. During that period of time, Mike and I recorded solo albums, which opened the door for Alice to record Welcome to My Nightmare. After that, we were ready to get back together to do the next Alice Cooper group album, and Alice didn't come back.
Bruce: I remember doing an interview with the Hartford Record, and the reporter said, "We hear that Alice is breaking up the band." I had no idea and said, "No, no, no, it isn't true." It took me some time to wipe the egg off my face.
We didn't know that the band was over for a long time. We were just naive about it. We took some time off, and then we just never got back together. There was never any talk about not doing the band. After a while, we tried to contact Shep, but nobody ever returned our calls until Neal finally got through. He was the one that told us that Shep said Alice didn't want to work with us anymore. That's what happened. We were fired. And I think Shep could have done more to hold it together. He just let it fall apart, and then he picked up the pieces that he wanted.
Gordon: It's funny, because Alice always comes off as the villain in this piece. We begged. I mean, twice Alice said, "Guys, listen, we agreed that we weren't going to break up until we were all millionaires. That was our deal. And with all of these solo projects, you are now breaking us up. Understand that if you take all this time away from the band, I may not be here when you come back." He didn't fire them; they actually fired Alice!
Alice was so loyal to them, because he realized when we made the decision that the band would be called Alice Cooper and he would be called Alice Cooper that they were going to get lost in the wash.
Cooper: I think some of the guys in the band didn't really want to do the theatrics anymore. They knew how much it was costing us, and it was very expensive to do these big shows. They had it in their mind to pare down and do something simpler. I just couldn't see that. The way I saw it, if we went backward we'd be dead. We needed to go forward. In my head, Welcome to My Nightmare had to be bigger than Billion Dollar Babies.
Bruce: Alice tells the story that we wanted to wear blue jeans and hippie hats, and he's the one that saved us, but that's not true. He's the one that ditched us.
When I heard the songs from Welcome to My Nightmare on the radio, the only problem was I heard 'em on the radio. It was like, Okay, there's where you're never going to be again, son. To this day, the only thing that I can take from that is, every time he plays, he cannot perform without doing the songs that I wrote with him. He has to do them.
But it was a great experience. Wouldn't trade it for the world. I met a lot of wonderful people and got to play a lot of great music, some of it my own. I have the greatest respect for everybody in the band - even Alice, Shep and Bob Ezrin. Very talented people. It was hard to keep it together, and it's probably lucky it lasted as long as it did. I'd do it again in a heartbeat.
(Originally appeared in the Holiday 2008 issue of Guitar World magazine, featuring Tony Iommi on the cover.)