Grooves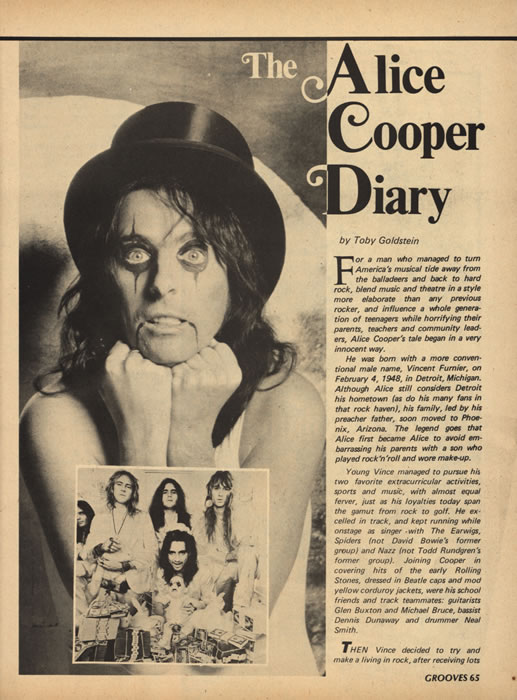 Originally Published: March 1979
The Alice Cooper Diary
Author: Toby Goldstein
For a man who managed to turn America's musical tide away from the balladeers and back to hard rock, blend music and theatre in a style more elaborate than any previous rocker, and influence a whole generation of teenagers while horrifying their parents, teachers and community leaders, Alice Cooper's tale began in a very innocent way.
He was born with a more conventional male name, Vincent Furnier, on February 4, 1948, in Detroit, Michigan. Although Alice still considers Detroit his hometown (as do his many fans in that rock haven), his family, led by his preacher father, soon moved to Phoenix, Arizona. The legend goes that Alice first became Alice to avoid embarrassing his parents with a son who played rock'n'roll and wore make-up.
Young Vince managed to pursue his two favorite extracurricular activities, sports and music, with almost equal fervor, just as his loyalties today span the gamut from rock to golf. He excelled in track, and kept running while onstage as singer with The Earwigs, Spiders (not David Bowie's former group) and Nazz (not Todd Rundgren's former group). Joining Cooper in covering hits of the early Rolling Stones, dressed in Beatle caps and mod yellow corduroy jackets, were his school friends and track teammates: guitarists Glen Buxton and Michael Bruce, bassist Dennis Dunaway and drummer Neal Smith.
Then Vince decided to try and make a living in rock, after receiving lots of local encouragement for the group's stage antics, his chums became his band, and the Cooper entourage was born. It remained more or less intact until 1974. Quickly realizing Phoenix was not exactly action central for musical hopefuls, the group headed for Los Angeles, calling the band Alice Cooper - a name that sounded as American as mom, the flag and apple pie. Adopting an attitude that had very little to do with musical expertise and a lot to do with 20th century lifestyles, the group considered itself an ultimate product.
Back in 1970, Alice told a reporter, "We didn't have a blues influence. The music that affected us was the saucy theme songs, like 77 Sunset Strip and Bourbon Street Beat and The Thin Man - hip stuff and cool jazz. That was the kind of thing that was going on when we were watching TV.
There was just one small problem: during the late 1960's and early 70's, America wasn't receptive to a group whose loyalties were technology and satire. The country had barely recovered from unchecked psychedelia, and wanted purity, simplicity and humbleness in its performers, a la Crosby, Still and Nash. Alice Cooper was none of these things. The group wore make-up and spangles (long before the New York Dolls.) Alice himself might turn up in a dress, further confusing his sexual identity, very deliberately. Their stage toys included brooms, watermelons, feather pillows (which got ripped to smithereens), and the occasional unleashing of a live chicken among the audience (which would give the group unbelievable headaches a few years on).
However, some Los Angeles residents became interested in the strange bunch. They acquired an aggressive manager, Shep Gordon, who directs Cooper's affairs to this day, and a new record label, Frank Zappa's brand-new company, Straight Records. In 1969, Pretties For You was the group's debut. Easy Action followed a year later. Both were of limited impact in encouraging musical acceptance for the group. They slunk back to Alice's birthplace, Detroit, where they lived on very little, (five to a room) and prayed that the Motor City's high-energy tendencies might give them a receptive audience, as it has already done for the MC5, The Stooges and Bob Seger.
Alice Cooper's fortunes took a major leap upward the day ace producer Bob Ezrin became interested in the starving band. The Canadian wizard has a magic touch in the studio with rock bands. He channeled Cooper's lunacy in the force of their songs and guided the group in recording a song that is still an anthem for frustrated young people. They proclaimed "I'm eighteen! and I don't know what I want..." The lyrics whined against a relentless rhythm in the three-minute masterpiece which became irresistible to chanting, swaying audiences. A British rock encyclopedia has called I'm Eighteen "America's equivalent to My Generation," (quite a generous compliment). Aside from becoming Alice Cooper's first national smash, the song is still considered by many to be their most significant contribution to pop mythology.
I'm Eighteen, and the Warner Bros. album from which is came, Love It to Death, firmly placed Alice Cooper on the side of youth, anarchy and deviant behavior. Killer, released late in 1971, intensified Alice's threatening image. That nice boy, Alice Cooper, was pictured dangling from a noose on the album cover, his face a distorted gargoyle. With growing financial success, the group could afford to expand the scope of their stage show, and Alice began chopping up baby dolls, using a live boa constrictor wrapped around his neck, and bringing simulated death to each venue with gallows, an electric chair and guillotine. He saw his props as theatre; but local officials viewed them as immoral and unhealthy, which intensified when the rumor started that Alice was even destroying live chickens onstage. It seems that what the band's early audiences had done to some unlucky poultry was transformed onto the band. Alice protested his innocence in the act, again, citing the American way of life as source material for the group's concepts.
He commented several years after the fury had abated, "We get blamed for doing a lot of violence onstage, but we don't do anything as violent as what's required reading for school. If anybody reads a Macbeth of King Lear, those are bloody plays. We don't do anything as violent as lots of TV shows, so I don't see why we're labeled violent.
"Of course, to be an American you have to have a certain percentage of being violent. Our whole system is based on violence. And I'm just putting it onstage. But I don't take it seriously. I'm doing it on sort of a mock level. Ninety-nine percent of the kids don't take it seriously; they know that Alice is up there having fun. My favorite actors were the villains, Bela Lugosi, Vincent Price. So I emulate that, because for every John Denver you have to have an Alice Cooper, just to balance."
School's Out, his hit single and album of 1972, continued the elevation of Alice Cooper as a gang-group leader, loved by his fans, despised by the officials of every town the band came to play. However, underneath the sinister skull make-up and gruesome effects, Alice and the band were very ordinary, down-to-earth people who had made a fortune with outrage. To five guys who'd been eating beans and shivering just two years before, the irony of their situation was not lost.
The gradual transformation of Alice Cooper from media monster to media mogul began with the appropriately titled Billion Dollar Babies, released at the beginning on 1973. The group acknowledged the life they were leading as superstars, figuring, why not make the most of what they'd certainly paid for? Said Alice, "Billion Dollar Babies is a reflection of just what the album title implies, that the group's current success has afforded us the freedom and environment, to the extent of overindulgence in many fashions, to put together a total representation of ourselves as being the by-product of the affluent society from which we've come."
By this time, the group had relocated to the East Coast, living in the palatial splendor of Connecticut estates, complete with their own mobile studio. Their tour of that spring and summer was equally elaborate, as a 48-passenger jet hauled the group and selected friends between gigs; painted on it's side was an enormous group logo. Despite the presence on the album of two more rocking hits, Elected and No More Mr. Nice Guy, some of the band's first supporters accused them of softening their punchy approach for the sake of building a mass following. The criticism was unfair, given how long it took them to catch the publics eye, but was also true. The comfortable life was a great pull for the group, and with the loss of their personal frustrations, the band's music became controlled, quieter and more accessible every time out.
You knew changes were in the wind when Liza Minnelli and Ronnie Spector contributed background vocals to several cuts on Alice Cooper's '73-74 release Muscle of Love. As a reporter who covered the New York session pointed out, Alice had less make-up on than Liza, and "only slightly longer hair" than Ronnie. The album became a specific showcase for Alice Cooper, singular, rather that Alice Cooper, group. Inevitably, by the middle of 1974, a year that Cooper took off from touring, the original group decided to leave-or were fired, depending on which story one believes.
Alice put his new band together from the core of Lou Reed's sidemen. Dick Wagner and Steve Hunter played guitar, Prakash John bass, Whitey Glan drums and Josef Chirowsky keyboards. On future albums, numbers of session players would be enlisted, although Wagner, another midwesterner, has won his place as an integral part of the Cooper recording, writing and production team.
Alice made a one-record switch to Atlantic for his 1975 release, Welcome To My Nightmare, a conceptual album which has proven to be one of Cooper's most adaptable works. He played the part of Steven, a disturbed little boy whose dreams were peopled by horrendous characters. the album follows Steven through one turbulent night, form which he makes a last-minute escape. And speaking of villainous creatures, the "evil" Vincent Price, one of Alice's long-time heroes, supplied fiendish narration.
The difference between Nightmare and Alice Cooper's earlier shock trips became apparent when comparing the songs. Tumultuous crescendos of guitar and drums gave way to calculated, hold-your-breath songspeak. The album's greatest hit, Only Women Bleed, was a ballad, not a rocker. Alice Cooper was at long last a real American product, a night's enjoyable diversion, complete with neatly choreographed death machines. Alice Cooper Goes To Hell, issued in 1976, and Lace and Whiskey, in 1977, maintained the pattern he had established with Nightmare. Everyone could enjoy Alice's antics, but no one ever need to be threatened by them again. The Alice Cooper Show, recorded live on his 1977 tour, summed up the expert presentation of Alice Cooper's image.
Back in 1975, when Alice Cooper had at last been accepted on his own terms, he said, "I hope the audience realizes it's just a role, 'cause I don't take anything I do seriously." Alice Cooper's new album, From the Inside, appears to take all of its content very seriously - perhaps because it's experiences spring from life. Much as been said in passing about Alice's prodigious appetite for beer, a lifestyle that finally caught up with him. Last year, he signed himself into hospital and stopped drinking for keeps, far from an easy decision.
Alice must have seen a lot in that hospital which shocked him as much as his image used to shock audience, only this time he was stared down by reality. With the assistance of Bernie Taupin, Elton John's former collaborator, he recorded an album that blurs all distinctions between Alice Cooper as a performer and as a human being. On that album is the very touching song, How You Gonna See Me Now, a song Alice based on a letter he wrote to his wife Cheryl from the detoxification hospital. Lyrically, From the Inside is a most effective recording made by an illusionist of many years who is now finding enough challenges in playing the game of life.
The Alice Cooper Show
Welcome To My Nightmare
Before there were the shockwaves colors of punk, before KISS bedazzled their fans with tons of special effects and masked faces, before the glitter-rockers stepped off in spangled platform shows, there was Alice Cooper. When Alice Cooper first earned a national reputation in the late 1960's, it was a the leader of the worst band in Los Angeles! So who could have anticipated a superstar in the making back then!
Obviously, millions of people have since learned to love spending 90 minutes on the edge of their seats, wondering if this time, daredevil Alice might not go too far and sacrifice a chunk of his anatomy for the sake of rock'n'roll. With black paint framing his eyes, stretched and torn leotards around his legs and surrounded by props from a guillotine (with a giant dancing tooth thrown in) Cooper is always primed for action and offers his fans one of the most carefully planned, well-orchestrated rock extravaganzas found anywhere.
Every since he devoted himself to rock as a high-schooler, Alice has stressed his love of theatrics. "We were doing a stage show in 1965," he recalls, "and had to make our own props because we were broke. The Welcome to My Nightmare show in 1975 cost $400,000 to produce. We had a guy from Disneyland design all the props. If you're gonna be an institution, you gotta go with the best. I want Alice Cooper to be like a Barnum and Bailey Circus or Halloween.
"I'm a show designer as much as I'm a performer. The very first show I did I played from a bathtub. The band brought it out like Washington crossing the Delaware. We were really crazy! In 1966, we were already wearing makeup. We'd go to the Ice Capade places and find old costumes and tear them up to wear. It got to be an 'in' thing to leave Alice Cooper concerts in Hollywood..."
These days, makeup and ripped-up clothing are nothing new, though you don't often hear about other performers except Alice using snakes as an integral part of their show. The slippery reptiles have accompanied Cooper's concerts on and off since the early Seventies. Despite their evil image, the snakes aren't real troublemakers, though there have been those occasions when one would slip through a hotel's air conditioning vent and create all sorts of chaos.
Alice prefers that his thrills remain onstage, where he is case in the time-honored role of the Grand Guignol, whose scary antics go only so far, to thrill but not to disturb his audiences' tender souls. Announcement of a Cooper show brings fans swarming to the box office. Once in a while, as in Detroit's Cobo Hall two years back, the mob could barely wait for the doors to open and smashed through glass barricades in a ticket buying frenzy.
Inside the hall, Cooper fans are treated to an evening variously described by critics as "a fantastic theatrical production. It is a bizarre rock musical designed to attack the audience's sense with surrealism one can only see, feel and hear in weird dream," and "the most elaborately staged, professionally executed piece of hard-rock theater ever."
Rock and theatrics are joined together in the Cooper show. When Alice chants the dirge-like Sick Things, he might wave part of a dismembered baby doll in the air. While re-living a particularly nightmarish dream and protesting I Never Cry, Alice could be surrounded by grotesquely made-up actor-dancers, straight out of a horror film. The entire enterprise is organized and supervised by stage producer Joe Gannon, who is responsible for at least a half-million dollars worth of stage props (over 900 separate pieces of equipment were used on Alice's 1977 Summer Tour.)
It's the kind of extravaganza which must be controlled carefully in order to strike the perfect balance between fear and hilarity. Otherwise, Alice runs the risk of being laughed at, on one hand, or inducing bad dreams and mass panic in some of his more sensitive viewers, on the other hand. He's always been aware of the power he wields as a master of rock'n'roll illusion, and keeps his audience's potential to do good and evil closely in mind.
"There are certain tricks out learn onstage and staging a show. You can tell when they're ready to break the barricade down. There are certain little methods you have to cool them, so that they don't even know why they're getting more relaxed. And there are certain times when the audience is low and you can do one little thing and immediately, they're up. It's something you can learn just by experience on the road. I can walk onstage and immediately know the attitude of the audience. That's my area, to keep them interested, but not to have them riot. Too much work went into the show for them not to see it."
The Alice Cooper Show has progressed a great deal since its early days of roughly made props and "found objects." When Alice goes on tour today, he takes on any of a dozen stage personalities, from little boy Steven of Welcome to My Nightmare, to the lovable, if inefficient, Inspector Maurice Escargot, star of Lace and Whiskey. He performs with the delight of a star who has mastered two very different worlds, theatre and rock, and has blended the best part of each to create an evening of enchantment.
Personal Profile
Alice Cooper's real name is Alice Cooper - he had it legally changed from his given name, Vincent Furnier, several years ago.
Alice owns one of the huge letter "O"s which made up the original HOLLYWOOD sign; he had made a sizable contribution to help rebuild the Los Angeles landmark.
Before giving up alcohol, Alice was know to have imbibed huge quantities of Budweiser beer
An excellent golfer, he's often seen on the green with his friends Paul Lynde, Bob Hope and George Burns.
Alice filmed a feature part in the Mae West film, Sextette, which has yet to be released
Alice is very happily married to Sheryl, who used to be a dancer in his show
He'd rather live in Los Angeles than anyplace else
He'd eventually like to direct films (as well as star in them)
Several of Alice's former band members created their own group, appropriately named Billion Dollar Babies
Artist Salvador Dali created a hologram portrait of Alice Cooper's brain in 1973; the 3-dimensional artwork was later exhibited at a prominent New York
art gallery
Alice was featured on the cover of Forbes magazine six years ago, in what was the business world's first recognition of rock'n'roll's money power
Alice starred in his own 90-minute television special, based on his Welcome to My Nightmare album
The Tampa Ballet choreographed a dance based on Alice's songs Years Ago and Steven, and premiered them last summer in their repertory
He was special guest on The Muppets Show for Halloween
Of all his hits, Alice's personal favorite is School's Out
Alice Cooper is the first rock figure to be made an honorary member of the conservative Rotary Club of Hollywood