Dayton Daily News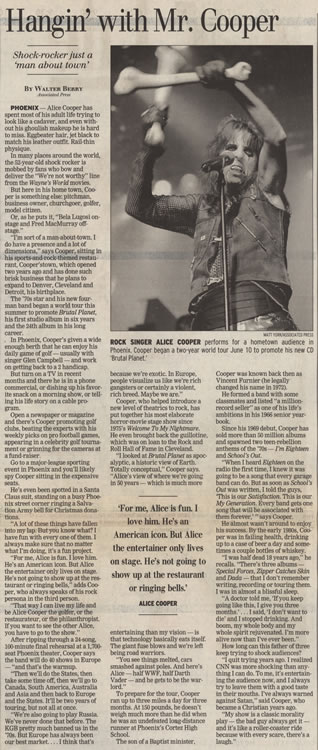 Dayton Daily News
(August 03, 2000)
Originally Published: August 03, 2000
Hangin' With Mr. Cooper
Shock-rocker just a 'man about town'
Author: Walter Berry
Phoenix - Alice Cooper has spent most of his adult life trying to look like a cadaver, and even without his makeup he is hard to miss. Eggbeater hair, jet black to match his leather outfit, Rail-thin physique.
In many places around the world, the 52-year-old shock rocker is mobbed by fans who bow and deliver the "We're not worthy" line from the Wayne's World movie.
But here in his home town, Cooper is something else; pitchman, business owner, churchgoer, golfer, model citizen.
Or, as he puts it, "Bela Lugosi onstage and Fred MacMurray offstage."
"I'm sort of a man-about-town. I do have a presence and a lot of dimensions," says Cooper, sitting in his sports-and-rock-themed restaurant, Cooper'stown, which opened two years ago and has done such brisk business that he plans to expand to Denver, Cleveland and Detroit, his birthplace.
The '70s star and his new four-man band began a world tour this summer to promote Brutal Planet his first studio album in six years and the 24th album in his long career.
In Phoenix, Cooper's given a wide enough berth that he can enjoy his daily game of golf - usually with singer Glen Campbell - and work on getting back to a 2 handicap.
But turn on a TV in recent months and there he is in a phone commercial, or dishing up his favorite snack on a morning show, or telling his life story on a cable show.
Open a newspaper or magazine and there's Cooper promoting golf clubs, beating the experts on his weekly picks on pro football games, appearing in celebrity golf tournaments or grinning for the cameras at a fund-raiser.
Go to a major league sporting event in Phoenix and you'll likely spy Cooper sitting in the expensive seats.
He's even been spotted in a Santa Claus suit, standing on a busy Phoenix street corner ringing a Salvation Army bell for Christmas donations.
"A lot of these things have fallen into my lap. But you know what? I have fun with everyone of them. I always make sure that no matter what I'm doing, it's a fun project.
"For me, Alice is fun. I love him. He's an American icon. But Alice the entertainer only lives onstage. He's not going to show up at a restaurant or ringing bells," adds Cooper, who always talks of his rock persona in the third person.
"That way I can live my life and be Alice Cooper the golfer, or the restauranteur, or the philanthropist. If you want to see the other Alice, you have to go to the show."
After ripping through a 24-song, 100-minute final rehearsal at a 1,700 seat Phoenix theater, Cooper says the band will do 40 shows in Europe - "and that's the warmup.
"Then we'll do the States, then take some time off, then we'll go to Canada, South America, Australia and Asia and then back to Europe and the States. It'll be two years of touring and not all at once.
"We're also going to play to Russia. We've never done that before. The KGB pretty much banned us in the '70s. But Europe has always been our best market. I think it's because we're exotic. In Europe, people visualize us like we're rich gangsters or certainly a violent, rich breed. Maybe we are."
Cooper, who helped introduce a new level of theatrics to rock, has put together his most elaborate horror-movie stage show since 1975's Welcome To My Nightmare. He has even brought back the guillotine, which was on loan to the Rock and Roll Hall of Fame in Cleveland.
"I looked at Brutal Planet as apocalyptic, a historic view of earth. Totally conceptual," Cooper says. "Alice's view of where we're going in 50 years - which is more entertaining than my vision - is that technology basically eats itself. The giant fuse blows and we're left being road warriors.
"You see things melted, cars smashed against poles. And here's Alice - half WWF, half Darth Vader - and he gets to be warlord."
To prepare for the tour, Cooper ran up to three miles a day for three months. At 150 pounds, he doesn't weigh much more than he did when he was an undefeated long-distance runner at Phoenix's Cortez High School.
The son of a Baptist minister, Cooper was known back then as Vincent Furnier (he legally changed his name in 1972).
He formed a band with some classmates and listed "a million record seller" as one of his life's ambitions in his 1966 senior yearbook.
"When I heard Eighteen on the radio for the first time, I knew it was going to be a song that every garage band can do. But as soon as School's Out was written, I told the guys, 'This is our Satisfaction. This is our My Generation. Every band has one song that is associated with them forever.'" Says Cooper.
He almost wasn't around to enjoy his success. By the early 1980s, Cooper was failing in health, drinking up to a case of beer a day and sometimes a couple bottles of whiskey.
"I was half dead 18 years ago", he recalls. "There's three albums - Special Forces, Zipper Catches Skin and Dada - that I don't remember writing, recording or touring them. I was in almost a blissful sleep.
"A doctor told me, 'If you keep going like this, I'll give you three months.' I said, 'I don't want to die' and I stopped drinking. And boom, my whole body and my whole spirit rejuvenated. I'm more alive now than I've ever been."
How long can this father of three keep trying to shock audiences?
"I quit trying years ago. I realized CNN was more shocking than anything I can do. To me, it's entertaining the audience now, and I always try band leave them with a good taste in their mouths. I've always warned against Satan," says Cooper, who became a Christian years ago.
"My show is a classic morality play - the bad guy always gets it - and it's like a roller coaster ride because with every scare, there's a laugh."