Comic Shop News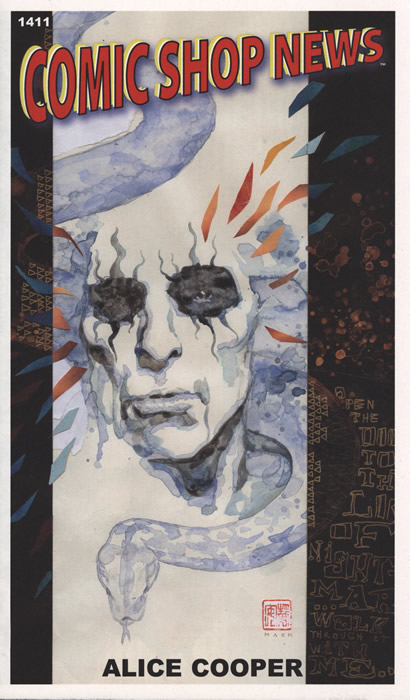 Originally Published: 2014
Alice Cooper Fans - Dynamite has Pretties For You!
Author: Cliff Biggers
Alice Cooper's musical career dates back forty-five years -- but many don't realize that his career in comics dates back more than a third of a century!
Not too long after the release of his fourth solo album, From the Inside, Alice Cooper made his mainstream comics debut in Marvel Premiere #50, a standalone issue featuring "Tales from the Inside," co-written by Cooper himself. Fifteen years later, he would star in the limited series Alice Cooper: The last Temptation, written by comics legend Neil Gaiman and illustrated by Michael Zulli. And now, twenty years later after that landmark series, Cooper is back in comics... this time as star of an ongoing series from Dynamite Entertainment!
"We're doing cool things with Dynamite," Cooper said. "I always say that the best thing about being in a comic book is that they draw you with great abs! Artistically, for me there is hardly a better medium. There is so much you can do in the form of comic that we'd never been able to do on stage. It's just a different way of storytelling, and it really has almost limitless possibilities. We're looking forward to stretching the existing boundaries of the comic medium again. We have new stories to tell, but we'll do it with the same theatrical, sinister sensibility that comes with the name 'Alice Cooper'. This is just the beginning! Welcome to my new Nightmare!"
"Alice Cooper's on-stage persona, the ultimate shock rocker, is perfect for comic books," Nick Barrucci, CEO and Publisher of Dynamite, said. "From his comic book debut in Marvel Premiere to The Last Temptation by Neil Gaiman, I've enjoyed the appearances Alice has made in comics. We are excited to develop captivating and hypnotic comic storylines that incorporate the Sinister Showman's gothic flair and grandiose vision. This is going to be one hell of a ride!"
Dynamite publisher Nick Barrucci explained why an ongoing comic book series based on a rock musician with his own mythology is such a perfect fit. "I'm a fan of Alice's, and a fan of Neil Gaiman's work. The Last Temptation is one of my three favorite works. And the chronology was serendipitous, to say the least.
"Knowing that I'm a fan of Alice's, a friend and licensing agent reached out to me to see if I wanted to work with him to create an Alice Cooper comic. I'll never forget the date, as it was November 11th, 2011. 11-11-11. Anyways, the negotiations started and we were discussing the Alice Cooper contract for comics and other licensed merchandise, and I went and re-read my Marvel Premiere #50 and also The Last Temptation. Then it hit me that the graphic novel had not been in print in a bit, and not in color practically since the release of the periodicals. I reached out to Neil about five or six months later and asked if he was interested in seeing the Last Temptation re-released, and Neil responded positively -- he basically said "Cool!" and put me in touch with his literary agent, who negotiated it separately for Neil, Alice, and artist Michael Zulli. This is a dream come true on many levels, as being a fan of both Alice's and Neil's, and working with both is incredibly gratifying. And taking it one step further, Michael Zulli's lavish artwork for the graphic novel is just incredible.
"And the team that we've put together on the ongoing Alice Cooper comic series will have fans talking as the tapestry set up by Joe Harris is complemented incredibly by Eman Casallos' artwork, and we have incredible covers by someone whose work I am also in awe of -- David Mack. This is truly a great high point for us as a company."
"From the start, Dynamite has looked to 'counter-program' where we can when it comes to content and this fits into that paradigm," Dynamite senior editor Joseph Rybandt said. "By making the comic book series Alice Cooper, we're offering readers something completely different and open and accessible to both the comic shop crowd and the mass audience."
The Alice Cooper persona and pop-culture mythology is particularly suited to comics. "Alice is certainly a character in every sense of the word, so yes, it does start the creative conversation at a natural point. Joe Harris gave us a high-level pitch that placed the trappings of Cooper and his world into a comic book context that was a no-brainer from a creative standpoint."
Alice Cooper writer Joe Harris (a veteran of comics and films well known to current readers for his series Great Pacific and his work on IDW's X-Files: Season 10) is far from a newcomer to Cooper and his work. "I've known bigger fans of his, but I've always respected his body of work, been pretty knowledgeable about his history, and am a fan of his music. I've owned albums like Billion Dollar Babies in various formats over the years, and have seen Alice Cooper in concert a couple times over the course of my lifetime too, so there's definitely some working experience on my end."
Harris explained that the Alice Cooper comic book series "concerns Alice Cooper who is not only a rock n' roll legend, but also the 'Lord of All Nightmares'. His legend and legacy straddles both history and fact, as well as this imagined realm where he also resides over dark things and bad dreams. Only he's been missing... out of action for some indeterminate period of time, held prisoner by a group of demonic, and quite under-handed and shady, operators known as Clan Black, who've acted as the supernatural equivalent of a terrible management team, leeching his fame and earning potential, denying him a stage to play his craft and music, as well as seeking to control the 'Nightmare Place' which has fallen into disrepair in Alice's absence.
"Our story concerns his escape form confinement, his efforts to reconsolidate his fame, reputation and leadership of his nightmare realm, and Clan Black's efforts to try and steal it all back. It's a mashup of Alice Cooper's true life history crossed with some fantastical departures. For instance, Kachina -- his famous python from the 1970s -- is a sidekick."
Will the storyline incorporate link to Alice Cooper's music? "It's really more a general tone or attitude," Harris said, "though we've taken some cues albums and songs like Welcome to My Nightmare, Billion Dollar Babies and School's Out."
While Cooper is not directly involved in the new comic, "I know Dynamite pitched him my take on the series and that was integral to the process," Harris said.
"We're focused on the character of Alice as perform[er] and supernatural entertainer of a sort," Rybandt added. "His history is part of that, but we're not directly referencing older material in order to let the work remain open and accessible."
In October, Dynamite will unveil its second Alice Cooper project: the Twentieth Anniversary edition of the long-out-of-print The Last Temptation graphic novel by Alice Cooper, Neil Gaiman, & Michael Zulli. "We've rescanned the entire project, and recolored it under the supervision of Alice, Neil, and Micheal," Rybandt said. "I'd say that makes this the definitive version!"
"I sign a ton of The Last Temptation comics after my shows," Alice Cooper said. "I was thumbing through one of them the other day and I realized that it's the 20th anniversary of them, but you wouldn't know it because the stories are still so relatable. To conceits and themes are still relevant -- the fear of growing up, the desire to stay young and shirk responsibility. It only becomes more tempting as you age. Like all good horror stories and nightmares, it's a morality tale. It speaks to something bigger than our personal wants and needs, bigger than our cultural principles. The new generation of readers will be thrilled by this sideshow as the first readers in 1994 were, and those reading it again for the first time in a decade or two will be surprised how real the nightmare and the temptation still is."
Neil Gaiman's The Last Temptation HC will not only present the definitive version of the graphic novel, but it will also include the complete scripts to all three issues that comprise the graphic novel and much more. "Neil has been able to provide us with quite a bit of material. We have the first letter that Neil wrote to Alice after their meet up, as well as the outline to the series, Alice's incredible introduction, and an earlier version of the third script so that fans can see the changes, even if they are slight ones. With all of this material, we're doubling the size of the graphic novel as there's only one chance to help commemorate the Twentieth Anniversary."
"Our lead designers are on the series, and Josh and Jason are just knocking it out of the park," Barrucci added.
The book will be offered in two formats: a standard hardcover edition and an autographed edition that is individually signed by Neil Gaiman, Michael Zulli and the Sinister showman himself, Alice Cooper! "Neil, Alice, and Michael have been incredibly supportive and the signed edition are really for the fans," Barrucci said. "They deserve the most high-end edition possible, and we're happy to be able to bring it to them."
Any chance that this might be the first of other Neil Gaiman projects to appear under the Dynamite imprint? "The reality is that Neil is one of the most sought after writer in any medium," Barrucci said. "As he's stated, he's a writer of things, he just happens to write more things than most -- whether it's comics, novels, children's books, screenplays, TV series, doesn't matter. I don't want to be one of those publishers who says 'this is hopefully the first of many.' Should the right project arise and it can work for Neil and for us, then yes, of course we would love to do more. In the meanwhile, the eye on the prize is to deliver the best possible Twentieth Anniversary Edition for The Last Temptation. If we do that, we will have done our job."
While both the ongoing Alice Cooper and The Last Temptation are on Dynamite's fall schedule, Harris pointed out that Alice Cooper is "a totally separate work from The Last Temptation, though somewhat reminiscent, I think -- that was the desired take the publisher pitched to me, and what I've tried to craft. Something wholly new, but at least somewhat familiar without being in any sort of continuity of anything like that."
Alice Cooper #1 is scheduled for September 3rd release; the book will be offered in a standard edition featuring cover art by David Mack, and a limited incentive photo cover. Neil Gaiman's The Last Temptation HC, in both standard and signed editions, is scheduled for late October release.
(Originally published in Comic Shop News, #1411 in 2014)