Columbus Dispatch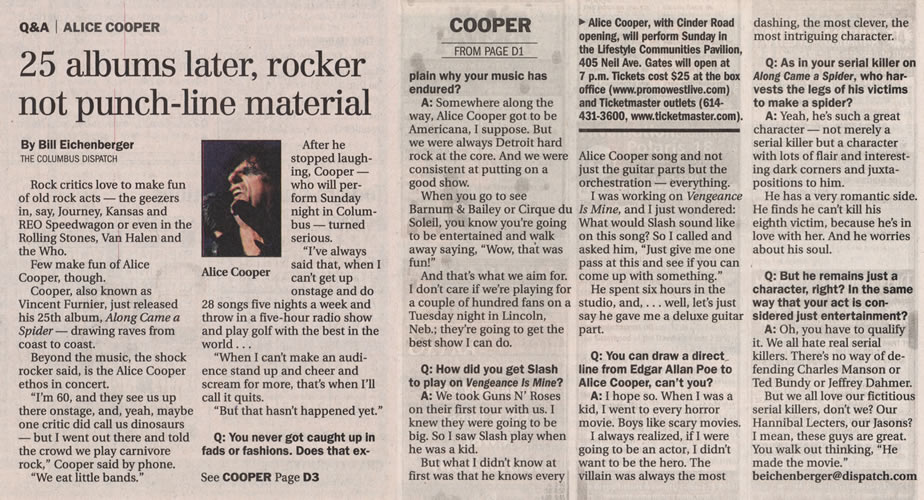 Columbus Dispatch
(August 23, 2008)
Originally Published: August 23, 2008
25 albums later, rocker not punch-line material
Author: Bill Eichenberger
Rock critics love to make fun of old rock acts -- the geezers in, say, Journey, Kansas and REO Speedwagon or even in the Rolling Stones, Van Halen and the Who.
Few make fun of Alice Cooper, though.
Cooper, also known as Vincent Furnier, just released his 25th album, Along Came a Spider -- drawing raves from coast to coast.
Beyond the music, the shock rocker said, is the Alice Cooper ethos in concert.
"I'm 60, and they see us up there onstage, and, yeah, maybe one critic did call us dinosaurs -- but I went out there and told the crowd we play carnivore rock," Cooper said by phone.
"We eat little bands."
After he stopped laughing, Cooper -- who will perform Sunday night in Columbus -- turned serious.
"I've always said that, when I can't get up onstage and do 28 songs five nights a week and throw in a five-hour radio show and play golf with the best in the world . . .
"When I can't make an audience stand up and cheer and scream for more, that's when I'll call it quits.
"But that hasn't happened yet."
You never got caught up in fads or fashions. Does that explain why your music has endured?
Somewhere along the way, Alice Cooper got to be Americana, I suppose. But we were always Detroit hard rock at the core. And we were consistent at putting on a good show.
When you go to see Barnum & Bailey or Cirque du Soleil, you know you're going to be entertained and walk away saying, "Wow, that was fun!"
And that's what we aim for. I don't care if we're playing for a couple of hundred fans on a Tuesday night in Lincoln, Neb.; they're going to get the best show I can do.
How did you get Slash to play on Vengeance Is Mine ?
We took Guns N' Roses on their first tour with us. I knew they were going to be big. So I saw Slash play when he was a kid.
But what I didn't know at first was that he knows every Alice Cooper song and not just the guitar parts but the orchestration -- everything.
I was working on Vengeance Is Mine, and I just wondered: What would Slash sound like on this song? So I called and asked him, "Just give me one pass at this and see if you can come up with something."
He spent six hours in the studio, and, . . . well, let's just say he gave me a deluxe guitar part.
You can draw a direct line from Edgar Allan Poe to Alice Cooper, can't you?
I hope so. When I was a kid, I went to every horror movie. Boys like scary movies.
I always realized, if I were going to be an actor, I didn't want to be the hero. The villain was always the most dashing, the most clever, the most intriguing character.
As in your serial killer on Along Came a Spider , who harvests the legs of his victims to make a spider?
Yeah, he's such a great character -- not merely a serial killer but a character with lots of flair and interesting dark corners and juxtapositions to him.
He has a very romantic side. He finds he can't kill his eighth victim, because he's in love with her. And he worries about his soul.
But he remains just a character, right? In the same way that your act is considered just entertainment?
Oh, you have to qualify it. We all hate real serial killers. There's no way of defending Charles Manson or Ted Bundy or Jeffrey Dahmer.
But we all love our fictitious serial killers, don't we? Our Hannibal Lecters, our Jasons? I mean, these guys are great. You walk out thinking, "He made the movie."
Alice Cooper, with Cinder Road opening, will perform Sunday in the Lifestyle Communities Pavilion, 405 Neil Ave. Gates will open at 7 p.m. Tickets cost $25 at the box office and Ticketmaster outlets (614-431-3600).