Chicago Sun-Times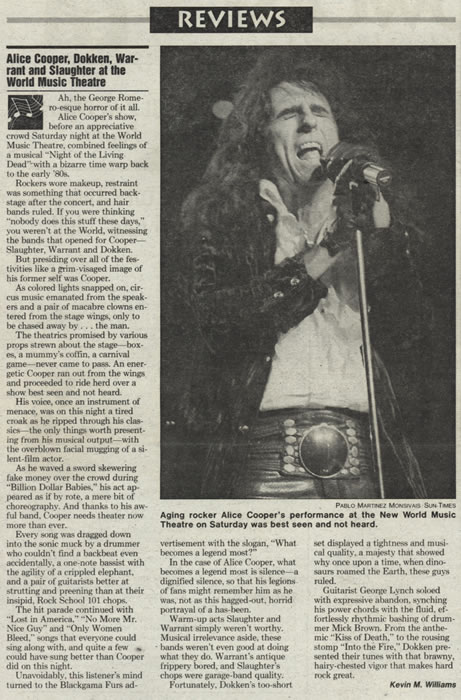 Chicago Sun-Times
(August 04, 1997)
Originally Published: August 04, 1997
Alice Cooper, Dokken, Warrant and Slaughter at the World Music Theatre
Author: Kevin W. Williams
Ah, the George Romero-esque horror of it all.
Alice Cooper's show, before an appreciative crowd Saturday night at the World Music Theatre, combined feelings of a musical "Night of the Living Dead" with a bizarre time warp back to the early '80s.
Rockers wore makeup, restraint was something that occurred backstage after the concert, and hair bands ruled. If you were thinking "nobody does this stuff these days," you weren't at the World, witnessing the bands that opened for Cooper - Slaughter, Warrant and Dokken.
But presiding over all the festivities like a grim-visage image of his former self was Cooper.
As colored light snapped on, circus music emanated from the speakers and a pair of macabre clowns entered from the stage wings, only to be chased away by...the man.
The theatrics promised by various props strewn about the stage - boxes, a mummy's coffin, a carnival game - never came to pass. An energetic Cooper ran from the wings and proceeded to ride herd over a show best seen and not heard.
His voice, once an instrument of menace, was on this night a tired croak as he ripped through his classics - the only things worth presenting from his musical output - with the overblown facial mugging of a silent film actor.
As he waved a sword skewering fake money over the crowd during "Billion Dollar Babies," his act appeared as if by note, a mere bit of choreography. And thanks to his awful band, Cooper needs theatre now more than ever.
Every song was dragged down into the sonic mock by a drummer who couldn't find a backbeat even accidentally, a one-note bassist with the agility of a crippled elephant, and a pair of guitarists better at strutting and preening then at their insipid, Rock School 101 chops.
The hit parade continued with "Lost In America," "No More Mr. Nice Guy" and "Only Women Bleed," songs that everyone could sing along with, and quite a few could have sung better then Cooper did on this night.
Unavoidably, the listener's mind turned to the Blackgama Furs advertisement with the slogan, "What becomes a legend most?"
In the case of Alice Cooper, what becomes a legend most is silence - a dignified silence, so that his legions of fans might remember him as he was, not as this hagged-out, horrid portrayal of a has-been.
Warm-up acts Slaughter and Warrant simply weren't worthy. Musical irrelevance aside, these bands weren't even good at doing what they do. Warrant's antique frippery bored, and Slaughter's chops were garage-band quality.
Fortunately, Dokken's too-short set displayed a tightness and musical quality, a majesty that showed why once upon a time, when dinosaurs roamed the Earth, these guys ruled.
Guitarist George Lynch soloed with expressive abandon, synching his power chords with the fluid, effortlessly rhythmic bashing of drummer Mick Brown. From the authentic "Kiss of Death"," to the rousing stomp "Into the Fire," Dokken presented their tunes with that brawny, hairy-chested vigor that makes hard rock great.