Bulletin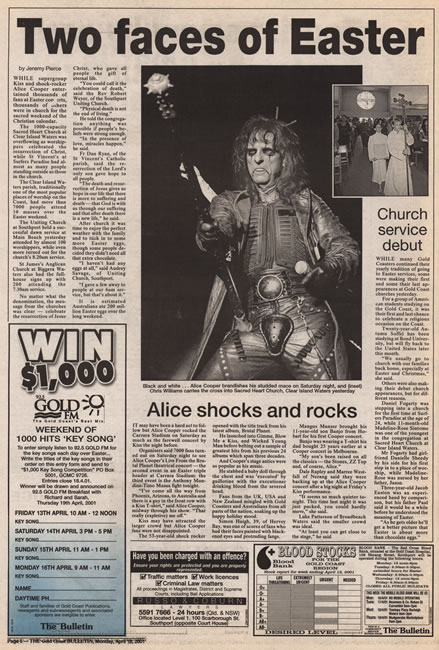 Bulletin
(April 16, 2001)
Originally Published: April 16, 2001
Alice shocks and rocks
Author: Jeremy Pierce
It may have been ahard act to follow but Alice Cooper rocked the Carrara Stadium on Saturday as much as the farewell concert by Kiss the night before.
Organisers said 7000 fans turned out on Saturday night to see Alice Cooper's Live From the Brutal Planet theatrical concert - the second event in an Easter triple header at Carrara Stadium: the third event is the Anthony Mundine-Timo Masua fight tonight.
"I've comes all the way from Phoenix, Arizona, to Australia and there is a guy in the front row with a Kiss T-shirt," said Alice Cooper, midway through his show. "That really (expletive) me off."
Kiss may have aattracted the larger crowd but Alice Cooper fans were not disappointed.
The 53-year-old shock rocker opened with the title track from his latest album, Brutal Planet.
He launched into Gimme, Blow Me a Kiss, and Wicked Young Man before belting out a sample of greatest hits from his previous 24 albums which span three decades.
And Coooper's stage antics were as popular as his music.
He stabbed a baby doll through the chest and was 'executed' by guillotine with the executioner drinking blood from the severed head.
Fans from the UK, USA and New Zealand mingled with Gold Coasters and Australians from all parts of the nation, soaking up the happy holiday mood.
Simon Haigh, 39, of Hervey Bay, was one of scores of fans who had their faces painted with blackened eyes and protruding fangs.
Mangus Mnaser brought his 11-year-old song Banjo from Hobart for his first Cooper concert.
Banjo was wearing a T-shirt his dad brought 25 ears earlier at a Cooper concert in Melbourne.
"My son's been raised on all the classics - the Stones, ZZ Top and, of course, Alice."
Dale Rapley and Marree Westfall of Nerang said they were backing up at the Alice Cooper concert after a night at Friday's Kiss performance.
"It seems so much quieter tonight. This time last night it was just packed, you could hardly move," she said.
Luke Patterson of Broadchurch Waters said the smaller crowd was ideal.
"At least you can get close to the stage," he said.
(Originally published in The Gold Coast Bulletin on April 16th, 2001)